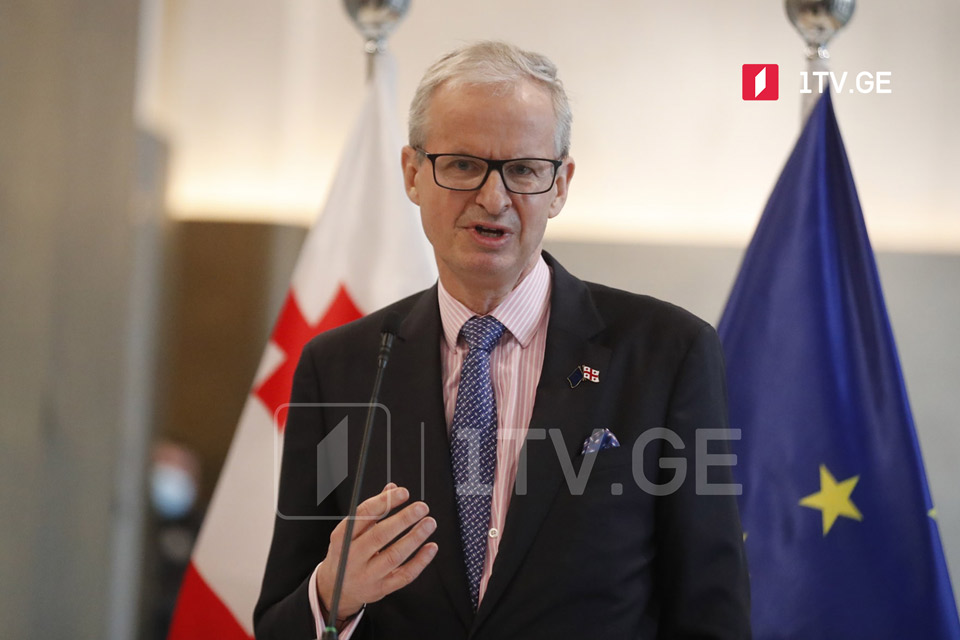 EU Mediator: Georgian political leaders responsible for solving crisis
Special envoy of the European Council President Charles Michel, Christian Danielsson, told media after the many-hour negotiations between the ruling party and the opposition that less progress was made on some issues in the political crisis-related talks.
Danielsson said he is heading for Brussels to report to President Michel on the progress made.
"Some important progress was made on several aspects of President Michel's six-point plan. And this is welcome and indispensable to address the underlined issues of the crisis. However, on other issues, less progress was made. I will now return to Brussels, and I will report this morning back to President Michel," the EU special envoy told the media.
The EU mediator says he strongly believes Georgia's political leaders are responsible for solving the political crisis in Georgia. He added Georgian deserve a successful outcome.
"Ultimately, the responsibility to find a solution to this political crisis is that of Georgia's political leaders. This is essential for the country's democratic consolidation and its European aspirations. I hope that the parties will now seriously reflect on the situation and on the way forward and that a necessary willingness to compromise that will permit a successful outcome to this mediation process will become more evident. I truly believe this is what the Georgian people deserve," Danielsson declared.
EU special envoy emphasized that ending the political crisis is essential as Georgia would be able to focus on real problems like Covid and the EU agenda.
"Ending the political crisis would mean that Georgian leaders can focus their full attention on Covid and its social-economic consequences, advancing on the EU agenda and defending Georgia's security interests in the region. Those are the real challenges that this country is facing," the EU mediator stresses.
The opposition and the ruling team held a second hours-long joint meeting mediated by EU's Christian Danielsson on Thursday. Danielsson, a special envoy for the European Council President, left for Brussels.