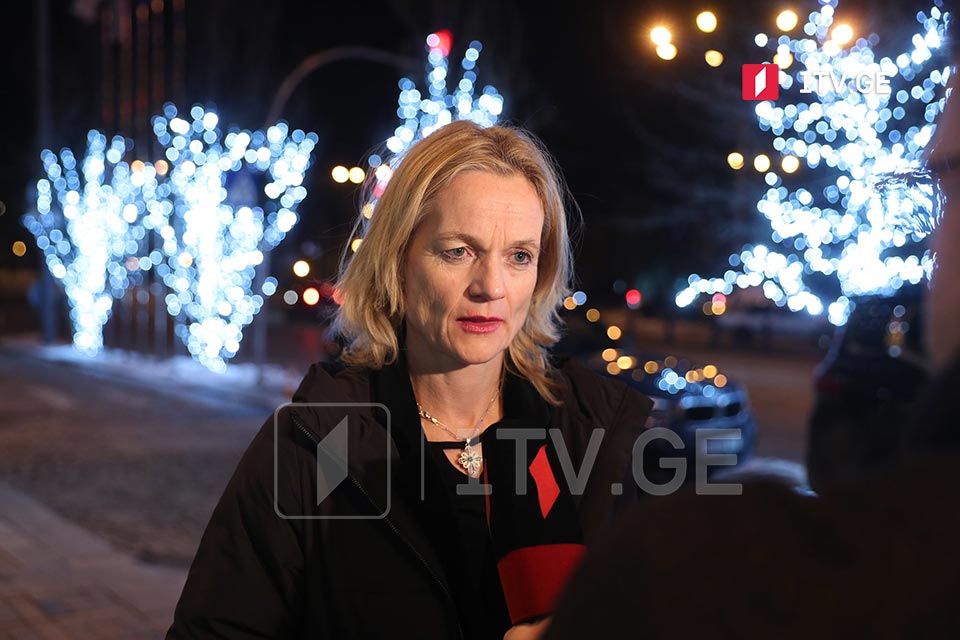 West more alarmed over Ukraine than Ukrainian gov't, MEP Cramon tells GPB First Channel 
The current situation in Ukraine can only be partially compared to Georgia's developments in 2008, European Parliament member Viola von Cramon-Taubadel told GPB First Channel on Wednesday.
Remarking on international partners moves against the Russian aggression, European Parliament member noted that the European Union, NATO, all the partners will implement and imply taught sanctions, "they think about stronger military support, they think about any kind of personal assistance in Ukraine, but, nevertheless, in the end, Ukraine has to get prepared for this war, as well."
"I would say the situation in Georgia 2008 you can partly compare, but partly you can not compare. On the one hand, yes, we are close to the Olympic games, last time it was on the 7th of August, actually right at the beginning of the Olympic games in Beijing, in China and now again we are right at the beginning of the Olympic games, at the winter Olympic games, this is maybe one of the similarities. On the other hand, I think, the whole world is watching the situation here in Ukraine, watching the amassing of the troops along the eastern border and you can really see that there is a lot of sympathy, there is a lot of solidarity, there is a lot of awareness. I think it is pretty clear who is aggressor and who is let's say the victim here. So, I think we have developed in a way but we have still not the right responses," MEP Cramon underscored.
MEP Cramon thinks Ukraine should "prepare its people," noting that the west is "more alarmed" than the Ukrainian government.
"And, so far, we have discovered that actually the people abroad, like the west, is more alarmed, is more alerted than the Ukrainian government or at least they would like to calm down the situation which is totally fine. Of course, nobody should withdraw money from the banking machines and so on, nevertheless, prepare your people, tell them where shelters, make sure the civilian population is aware of things, I mean emergency situation could come up, is this everything in place. We do not really get the answer, but nevertheless, it is for us still a worrying moment," MEP Cramon asserted.
European Parliament member added that the last resolution on Ukraine in the European Parliament was voted on with a overwhelming majority and has a long list of sanctions. "Of course sanctions in the financial sector, banking sector, economical, but also targeted individual sanction against those people around Putin and oligarchs who benefit from the system."