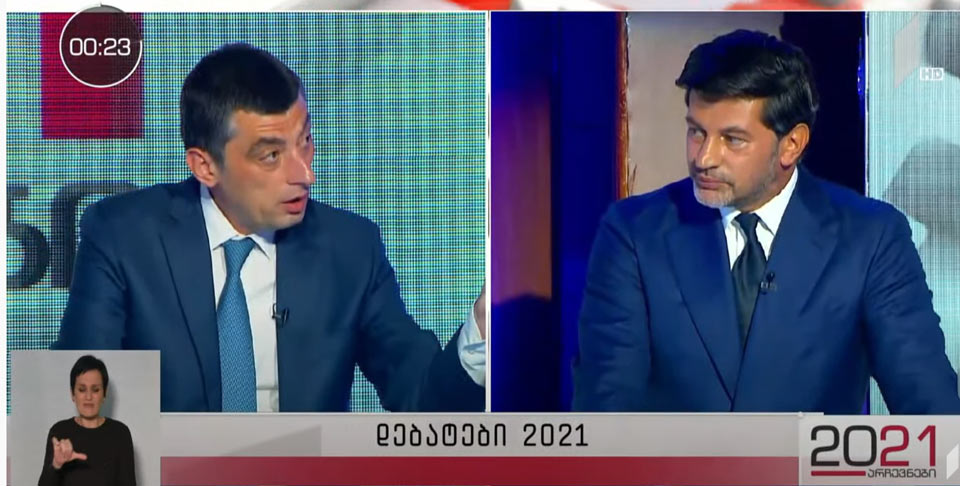 Q&A session between Giorgi Gakharia and Kakha Kaladze
Giorgi Gakharia, For Georgia's mayoral candidate, asked his rival from the ruling Georgian Dream Kakha Kaladze questions during the debates between all 16 Tbilisi mayoral candidates hosted by the GPB First Channel.
Gakharia asked Kaladze if he would take a face-to-face debate, "or I need to grow politically first?" In a response, Kakha Kaladze said: "Politically, of course, you must become a qualified political party and then you will have this opportunity." "You will be able to see how much support of Georgian citizens and particularly Tbilisi residents you have. We will not be in politics for one day, we will have the opportunity to debate any other day."
During the mayoral debate, Giorgi Gakharia asked Kakha Kaladze yet another question of whether Kaladze shares the GD's accusations against Gakharia.
"We have known each other for a long time. Your teammates, who are also my former teammates, accuse me of drug addiction, betrayal and connections with Saakashvili. I want to ask personally you, Kakha Kaladze, do you share these accusations or not," Gakharia Kaladze asked.
In a response, Kaladze said nobody ever blamed Giorgi Gakharia for drug addiction or called him a drug addict.
"I think no one has ever blamed you for drug addiction or called Giorgi Gakharia a drug addict. As for your behaviour, Giorgi, I said it live on TV, I told you personally, and I would not conceal that I disliked your decision made in February. I do not want to elaborate on the content and do not want to talk about it. I always try my best to be restrained when the matter concerns Giorgi Gakharia. First of all, I am a man, and then I am a politician. Consequently, I would rather prioritize relations with the people, so I do not want to get into this discussion. Let Tbilisi and Tbilisians decide," said Kakha Kaladze.
On September 21, 2021, GPB First Channel hosted debates among all the Tbilisi mayoral candidates, including Tamar Kekenadze – Third Force- Strategy Aghmashenebeli #1; Giorgi Lomia – David Tarkhan-Mouravi, Irma Inashvili – Alliance of Patriots of Georgia #8; Ana Bibilashvili – Lelo #9; Mikheil Kumsishvili – Shalva Natelashvili – Georgian Labor Party #10; Giorgi Kutateladze – Georgia #13; Teimuraz Bobokhidze – Mamuli #15; Giorgi Laghidze – Giorgi Laghidze – Future Georgia #20; Arnize Richard Ogbunuju – Our United Georgia #23; Giorgi Gakharia – Gakharia – for Georgia #25; Ketevan Nakashidze – Mamuka Tuskadze – For Social Justice #29; Evgeni Ghviniashvili – Socialist Workers' Party #30; Zaza Khatiashvili – Free Georgia (Zaza Khatiashvili, Kakha Kukava, Grigol Jojua) #37; Kakha Kaladze – Georgian Dream – Democratic Georgia #41; Ana Dolidze – Ana Dolidze – For People 48; Giorgi Gachechiladze – Gachechiladze – Green Party #50. Nikanor Melia from the United National Movement, # 5, also took part in the debates but left after a one-minute of introduction speech.
The local elections are scheduled for October 2, 2021.