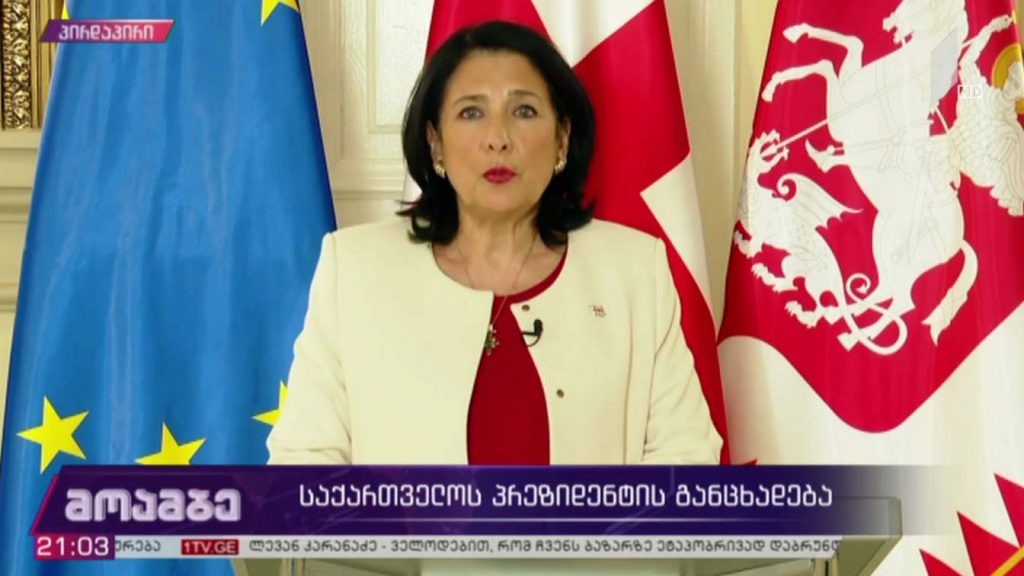 Georgian President addresses ruling team and opposition
President of Georgia Salome Zourabichvili addressed the ruling Georgian Dream party and the opposition.
"As the President of this country, I would like to address representatives of the opposition, the ruling party, and society today, before the opening of the spring session of the Parliament of 10th Convocation. Recently, Georgia has introduced a fully parliamentary system, and the public has elected a multi-party parliament through the recent elections, which is a new stage of democracy. Today the country needs to implement this system in full! Time is running out! The crisis caused by the pandemic requires an efficient, fast-acting parliament and a business-like approach from everyone! Political controversy cannot meet these grave challenges! It is time for unity and solidarity inside the country and at the international level!" Salome Zourabichvili declared in a televised address.
Georgian President emphasized the key role that the opposition could play because "it has never been so strong in parliament. Eight opposition parties obtained 60 seats out of 150.
Salome Zourabichvili accentuated that voter confidence in the parties and the system is at stake. The President underlined the responsibility of the parliamentary majority. Zourabichvili said, "it needs the opposition to at least question and criticize the decisions. It is what a democratic system needs!
Georgian President added that the parties need to listen to each other and work together to reach Georgia's ambitious goals.
"I call on both sides to make sensible decisions, which will be a step in the best interest of the country and not aimed at narrow interests. I urge the opposition to think, respect their voters and fulfill the obtained mandate. I call on the majority not to give in to the temptation of a single-party rule, refrain from a premature decision on opposition mandates' termination, and give the opposition more time to make the right decision. It is the demand and expectation of our society. We should all respect and take care of it," the Georgian President said.