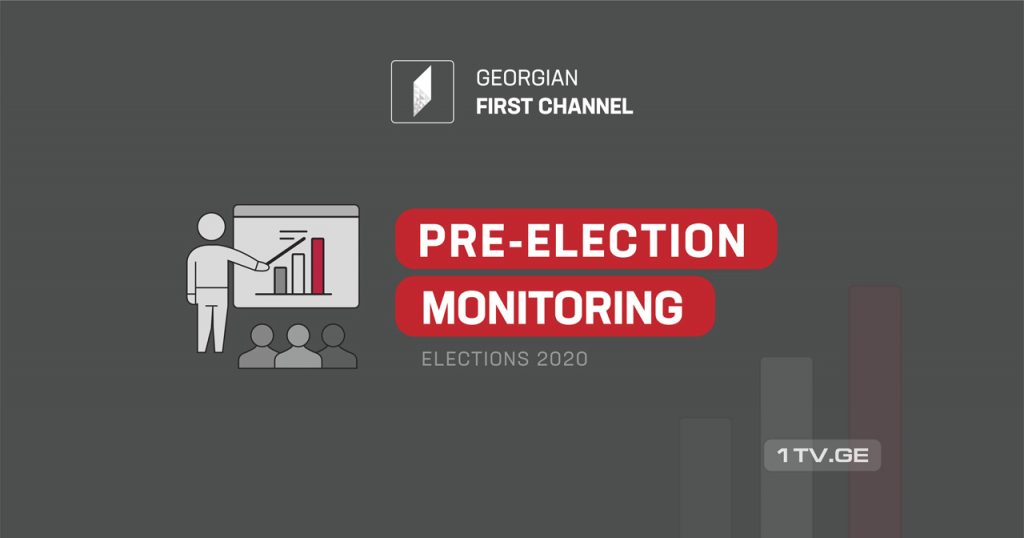 Georgian First Channel kicks off publishing pre-election media monitoring results
Georgian First Channel kicks off publishing results of a pre-election media monitoring.
All socio-political programs of First Channel and Georgian Radio have been monitored since September 1, aiming at counting the quantitative data of the time allocated to election subjects.
It is important that the monitoring is being carried out by means of a specially created program. The link of TV program/story is attached to each record. Then, the data is processed by monitors trained according to the specifics of different platforms and programs.
In line with the practice of international organizations, the topics and subjects will be measured as follows:
Covered topic according to the allotted time;
Covered subject according to the allotted time;
Direct/indirect coverage of the subject according to the allotted time;
Coverage of the subject by tone (positive, negative, neutral).
Individual media monitoring components will be published per week and the full report after the elections.
The first result of ongoing monitoring includes the election subjects measured according to the allotted time in 'Moambe' news program.
The slide below includes the daily programs of 'Moambe' from 1-14 September:
Moambe (08:00)
Moambe (09:00)
Moambe (10:00)
Moambe (12:00)
Moambe (15:00)
Moambe (18:00)
Moambe (21:00)
The parties are marked with the names under which they are running in the elections. The data is taken from CEC official website. In a bid to better identify subjects, we added party logos to the list.
As of September 14, the CEC, in addition to the registered parties, is monitoring the total coverage of independent candidates running in the elections, as well as the time allotted to entities running in the local self-government elections.
Based on the monitoring, the coverage is carried out in accordance with the election subjects activity. A total of 30 registered parties were covered as yet.
03:30:00 (three hours and thirty minutes) was dedicated to the coverage of the presented election subjects in 'Moambe'. Among the most active, the first three parties, allocated time varies from 1-3 minutes, meaning that that the balance of time distribution in news programs is maintained.
Continuous monitoring and publication of results will make it possible to observe the dynamics of the election process coverage and equal distribution of airtime among election subjects, which in turn will ensure informed public choice.
On the given slide, along with the time allotted to each subject, the percentage distribution is presented, where 100% is the total time of coverage of the subjects during the reporting period.
(Slide 1)