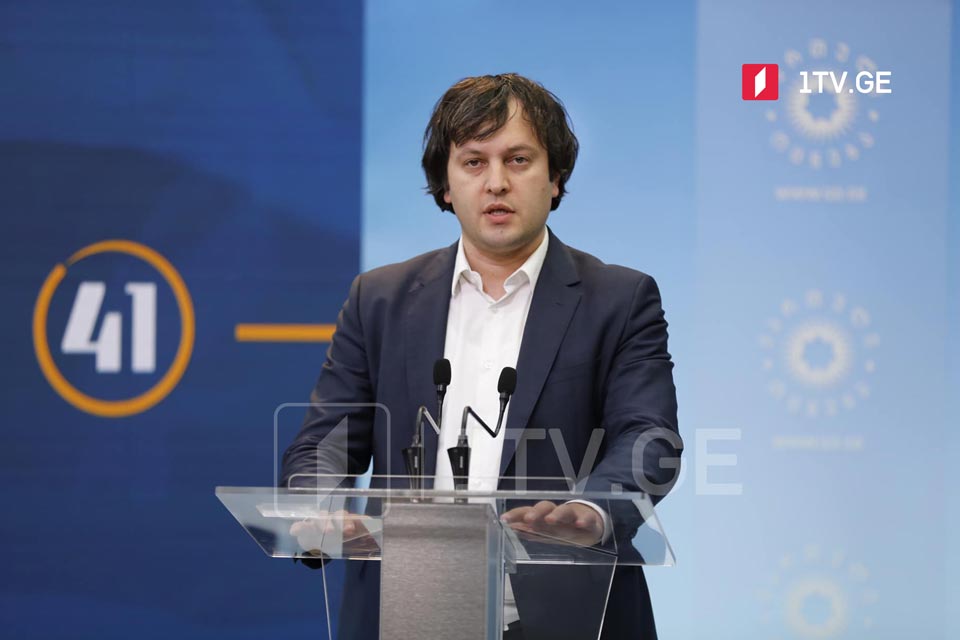 Parliamentary Majority Leader: Georgian Eva Brown attacks German Ambassador
Today we saw another attack on the German Ambassador. A citizen, a Georgian Eva Braun, I mean Tamar Chergoleishvili, the wife of one of the creators of the fascist nine-year regime, reminds Germans of a grave past that they remember very well, the leader of the parliamentary majority, Irakli Kobakhidze, stated on Imedi TV.
According to him, attacks on ambassadors are the toughest event, especially considering the form of attack.
"As for the attack on the US ambassador, the EU ambassador, it is not the fruit of the imagination of one problematic media owner, there is a concrete political force behind it. This person, who is the first speaker of these messages, Nika Gvaramia, is naturally one of the prominent leaders of this political force, the National Movement. But the main one behind this orchestrated, organized attack is the bankrupt politician Giga Bokeria; his ideas are being implemented by Nika Gvaramia and the entire active members of the National Movement.
Some parties, the leaders of Lelo and Girchi, have come out and said that such attacks are unacceptable. But if it is unacceptable, why do they sit next to Bokeria, Gvaramia, and Burjanadze; where are the standards and principles. It looks like they deny the wording but stay together in practice. But, the society sees everything," Irakli Kobakhidze said.
Tamar Chergoleishvili, the founder of Tabula, wrote on Facebook that the German Ambassador to Georgia, Hubert Knirsch, "should avoid sarcasm with historical parallels."
"The German ambassador should, as a rule, avoid sarcasm with historical parallels, especially the burning of body parts," Chergoleishvili wrote.
German Ambassador to Georgia Hubert Knirsch told Imedis Kvira yesterday that the internal controversy of opposition is behind the criticism of diplomats.
"I think such statements should not be taken too seriously. We should set prizes for the most exotic and imaginative statements. Personally, my favorite is the idea of ​​comparing the opposition with Ketevan Tsamebuli. The opposition is being tortured in the presence of diplomats, and they are expected to do the terrible thing, which they voted for, which is to enter the parliament. I would also like to ask the media, do not make a big deal of whatever they say," Hubert Knirsch said.
According to him, the parliament gets its legitimacy from the people through elections, not by the entry of opposition parties.