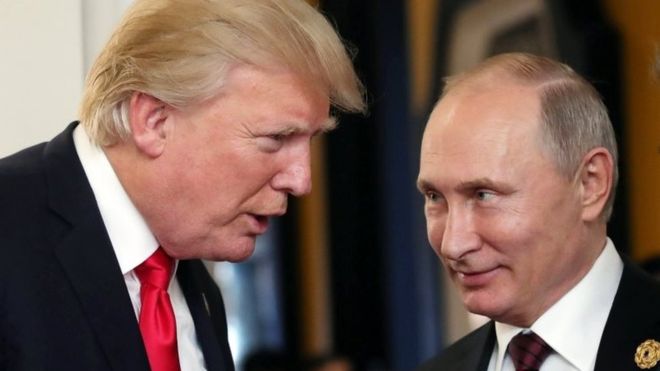 Trump and Putin 'agree to defeat IS in Syria'
US President Donald Trump and Russian President Vladimir Putin have agreed to fight so-called Islamic State (IS) in Syria until its defeat. A statement was prepared by experts after the leaders met briefly on the sidelines of an Asia-Pacific summit in Vietnam on Saturday.
In total, they had three encounters within 24 hours at the summit. During one conversation, Mr Trump said Mr Putin had denied allegations of meddling in the US 2016 election.
Questions over Mr Trump's ties to Moscow have dogged his presidency, with key former aides under investigation for alleged collusion with Russia.
A formal bilateral meeting between the two presidents had been widely expected at the Asia-Pacific Economic Co-operation (Apec) summit in the port city of Da Nang, but Mr Putin later said scheduling issues had got in the way.
The pair met for the first time in July at the G20 summit in the German city of Hamburg, as reported by BBC.