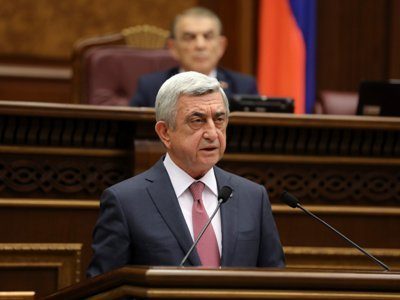 Serzh Sargsyan elected Armenia's prime minister
The Armenian parliament on Tuesday elected Serzh Sargsyan as the country's new prime minister. Sargsyan, the sole candidate, received the support of 77 legislators. Eighteen lawmakers voted against.
Some opposition members of parliament were absent from the session. One of the legislators, leader of the faction Elk (Exit) Nikol Pashinian, for the past few days has been conducting rallies, street processions and other protest actions with the aim to upset the session by blocking the parliament's building.
Sargsyan, who on June 30 will turn 64, on April 9 stepped down as Armenia's president after ten years in office. He leads the conservative right-of-center ruling Republican Party of Armenia, as reported by Tass News Agency.