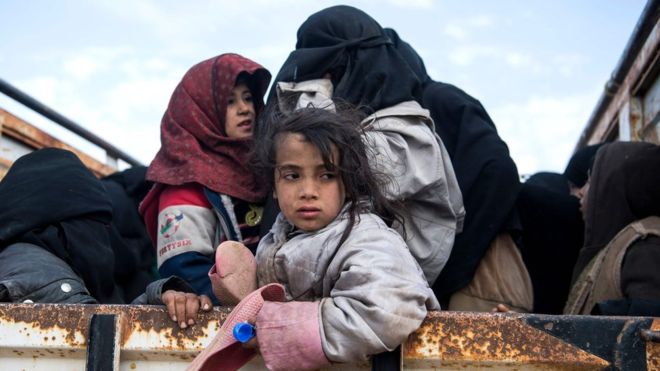 IS 'trapping 200 families' in last stronghold in Syria
The UN has expressed concern about the fate of some 200 families reportedly trapped in the last tiny area of Syria still held by the Islamic State group.
Human rights chief Michelle Bachelet said the many women and children in Baghuz were apparently being actively prevented from leaving by IS militants.
They also continued to be subjected to intense bombardment by US-led coalition forces and allied Syrian fighters.
Ms Bachelet demanded that safe passage be provided to those wanting to flee. "Those wish to remain must also be protected as much as possible," she added. "They should not be sacrificed to ideology on the one hand, or military expediency on the other. "If protecting civilian lives means taking a few more days to capture the last fraction of land controlled by [IS], then so be it."
Five years ago, IS controlled 88,000 sq km (34,000 sq miles) of territory stretching from western Syria to eastern Iraq, proclaimed the creation of a "caliphate", imposed its brutal rule on almost eight million people and generated billions of dollars from oil, extortion, robbery and kidnapping.
Now, an estimated 300 militants and hundreds of civilians are surrounded inside about 0.5 sq km (0.2 square miles) of land in Baghuz, a small village in the Middle Euphrates River Valley near the border with Iraq BBC reports.