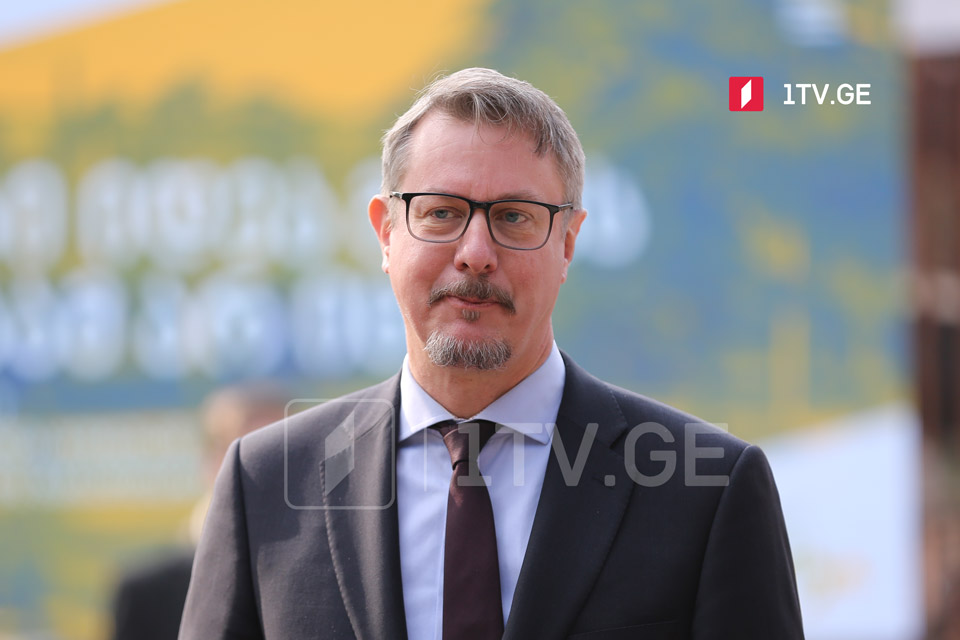 EU Ambassador says building bridges and confidence to be essential
Today is Election Day, the moment for Georgian people to make politics, said EU Ambassador to Georgia, Carl Hartzell. The EU Ambassador is observing the second round of municipal elections ongoing in Georgia. He called on voters to vote and expressed hope that Georgians would be able to make their voices heard in a calm and peaceful environment.
"I would encourage as many voters to come out today and make their voices heard. The election is not determined by the will of the majority but by those who decide to come out and cast their votes. So, therefore I hope that as many as possible will take this opportunity to come out and make their voices heard. And I hope that voters will be able to come out to vote today in a calm and peaceful environment," EU Ambassador said.
The EU Ambassador expressed hope that journalists would also be able to perform their duties in a peaceful environment. Hartzell stressed the EU worked for many years to assist Georgia to improve elections and to "create an electoral process that is as solid as possible." Carl Hartzell said he regrets the high degree of polarization.
"I am regretful of the fact of seeing such polarization. A rising polarization, including during this second round, and the harsh rhetoric, is not only unfortunate for the elections themselves but also a problem when it comes for Georgia to move ahead after the elections. No matter what the outcome is going to be in the second round. And moving ahead is what this country needs. So a lot of important work will have to be invested in order to build bridges and build confidence between different sides in order to succeed in this undertaking," he said.
According to the EU Ambassador, he was glad that OSCE/ODIHR election observer mission monitored the runoff elections. "I am very happy that we have the OSCE/ODIHR mission still continuously here with a fully-fledged mission to monitor these elections alongside a new delegation from the European parliament who has conducted a number of meetings in the past few days and are now out and about doing their monitoring duties, both here in Tbilisi and out in the regions. We are looking forward to learning of their assessment tomorrow afternoon, after which I will be gathering my colleagues from EU member states for us to make known our assessment of these elections," EU Ambassador claimed.
Today, it's time for the people of Georgia to make their voices heard in the second round of local elections. Let me encourage everyone to use this opportunity. I wish all a calm and safe election day! pic.twitter.com/3xS4TXgqx0

— Carl Hartzell (@CarlHartzellEU) October 30, 2021