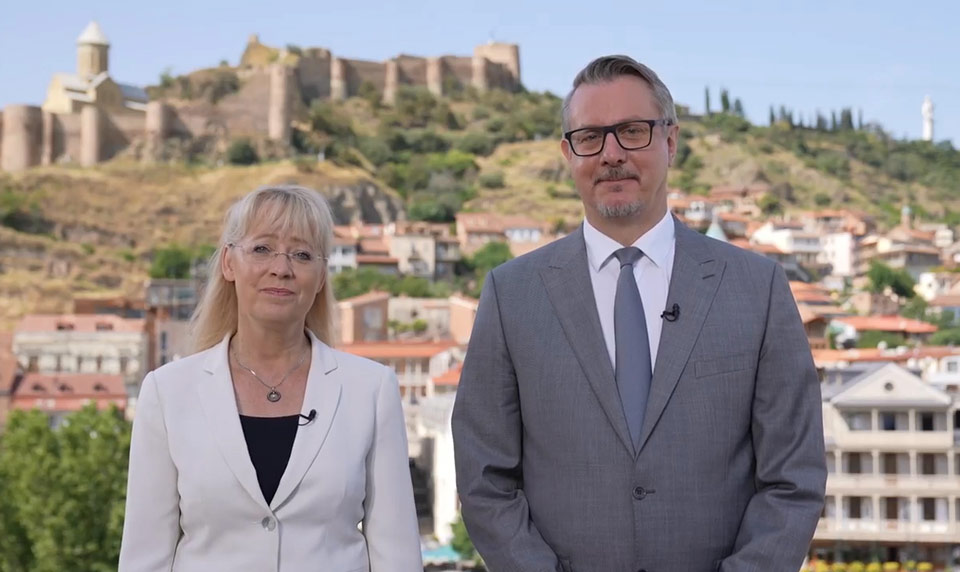 'Georgia will always be part of us,' EU Ambassador says in farewell video message
EU Ambassador to Georgia Carl Hartzell and his spouse Mette Hartzell Wednesday released a farewell video message, thanking Georgians "for having invited us to be a part of Georgia", noting "Georgia will always be a part of us".
Below is a full message:
"Georgia is a wonderful and unique country. You are standing on the shoulders of giants, your ancestors who fought for your country, its traditions, its culture, its language, its heritage.

Last month the European Union recognised Georgia's European perspective, Georgia's belonging to the family of European nations. Of course, you already knew that Georgia was a European country and so did I and many other friends of Georgia. But still the significance of this formal recognition of Georgia as a potential future member of the European Union cannot be underestimated.

While we see the struggles that still lie ahead we feel privileged to have witnessed this historic moment, with a conviction that you will succeed in seizing the opportunities it offers

Not only because you have proven so many times in history that you will not accept to be held back, but because Georgia is resting on Europe's foundation, you have even been part of defining what today are called European values and you have it in you to contribute to making Europe even stronger.

The energy and spirit you have here is breathtaking. And when the day comes that all this energy is projected in the same direction, you simply will be unstoppable," Carl Hartzell concluded.
After four unforgettable years in Georgia, the time has come for us to leave. Thanks for having invited us to be a part of Georgia. Georgia will always be a part of us. pic.twitter.com/gSP63LbKUe

— Carl Hartzell (@CarlHartzellEU) July 20, 2022