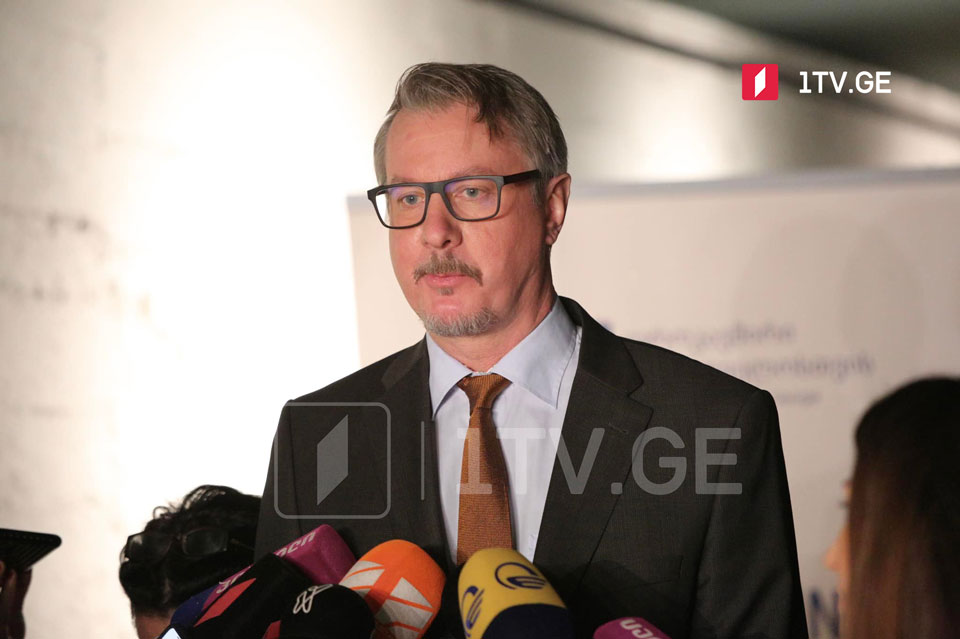 Many ordinary Georgians came out yesterday wishing Georgia to embrace opportunity given by EU, Ambassador Hartzell says
"What I saw yesterday was a very large, dignified and peaceful manifestation of Georgia's pro-European choice," said EU Ambassador Carl Hartzell when remarking on the June 20 rally called Home to Europe. The Ambassador stressed that staying within lawful and peaceful means is essential.
"What I heard yesterday was many, many ordinary Georgians coming out, wishing Georgia seize the moment and embrace the opportunity that is given now from the European Union side and take the right steps forward in order to de facto and in reality move Georgia's European agenda forward," Ambassador Hartzell said.
According to Carl Hartzell, the European Commission opened a European perspective for Ukraine, Georgia and Moldova that should not be missed.
"What the Commission said last Friday was to open the European perspective for Ukraine, Moldova and Georgia, which is not to be missed a very clear "yes" from the European Commission that Georgia has the potential to become a future EU member. And yesterday, we heard President Michel, who is very well known in this country, also stressing that now is a time to acknowledge that Ukraine, Moldova and Georgia have a future within the European Union. These are powerful messages, and at the same time, as we know, the Opinion for Georgia was less favourable than the Opinion for Ukraine and Moldova, which underlines the need now to take resolute steps forward to demonstrate these aspirations. And for that we have a to-do list from the European Commission, saying what are these requirements for Georgia to advance. And I am hoping to see in a few days' time if member states in the European Council will conclude the same as the European Commission. After which the message is very clear, Georgia's European destiny is in Georgia's hands, and it's time to work diligently to take the necessary steps, to move the agenda forward," Carl Hartzell said.
On June 17, European Commission published a recommendation to greenlight EU candidate status for Ukraine and Moldova, while Georgia should meet certain conditions first. Until then, it benefits from a 'European perspective.' On June 23-24, the Georgian government will receive a response from the European Council to its application for EU membership, which the country has completed together with Ukraine and Moldova.