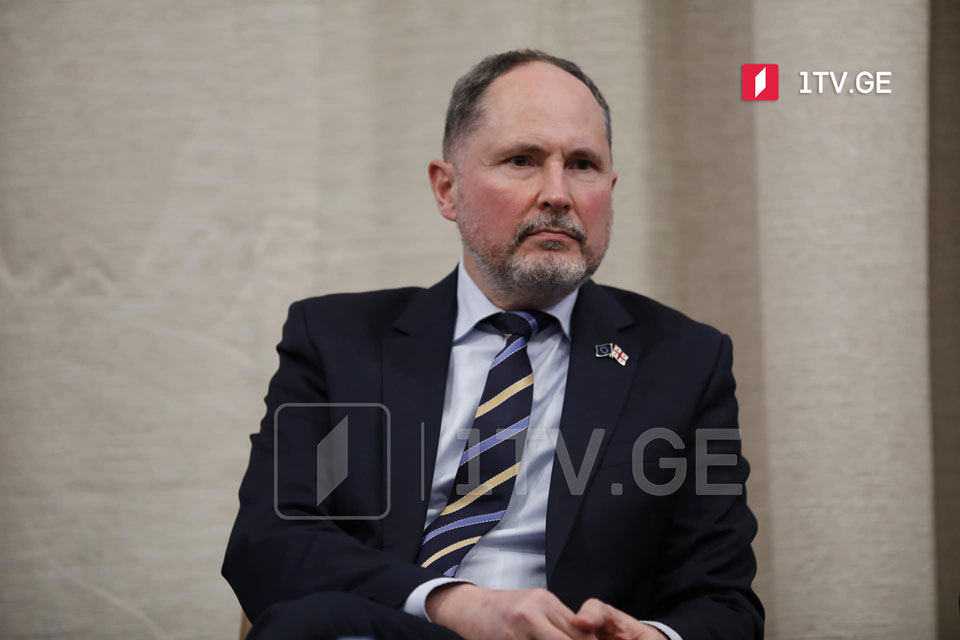 Ambassador Herczynski says draft law on foreign agents inconsistent with EU norms, principles
The US and all EU Ambassadors to Georgia, on Wednesday, met with Georgian Parliament Speaker Shalva Papuashvili over the draft law on foreign agents, tabled by the People's Power movement.
EU Ambassador Pawel Herczynski said the meeting attendees had "a very frank, open exchange" with the Speaker and with the two Chairmen of the Foreign Affairs Committee.
"Going deep into details, it was not an easy discussion. On our side, we have very clearly stated that this initiative is inconsistent with the norms and values of the European Union. And, we have once again stated that this initiative runs against at least two out of the 12 points that were given to Georgia last year in June.

On the side of the speaker, we have heard the arguments about the need to have such a law in Georgia. The conversation will continue. As I understand, this is not even a draft law. This is only an initiative. And, of course, on our side, we will watch very closely how this initiative involves. And we hope very much that this initiative will not be translated into law," Herczynski told media outlets.
EU Ambassador deemed civil society, NGOs, and free media "the backbone of democracy," noting that "it should be in the interests of everyone to have a vibrant civil society and a free media that would have the unimpeded possibility to operate."
He stressed this initiative was "inconsistent" with European Union norms and principles. "And this is precisely the message that we have collectively passed to the chairman of the Parliament."
"As European Union, we have been always supporting civil society. We have been always working very closely with NGOs on many fronts and, of course, we also support very strongly the freedom of speech and freedom of media. And we have serious concerns that this law, if implemented, and if, first and foremost, agreed might have a negative impact on civil society in general, on NGOs, and on free media. So, we are at the very early stages of reflection.

The reflection that will happen here in the Georgian Parliament and we really wanted as a European Union, including our member states, to pass at a very early stage of these reflections, a very strong signal about our position concerning this initiative. This was the first meeting that we had on this topic," he noted.
Alluding to Georgia's EU candidate status, Herczynski stated that "It will be 27 member states at the highest political level, at the level of Presidents and Prime Ministers, that will reflect and that will decide."