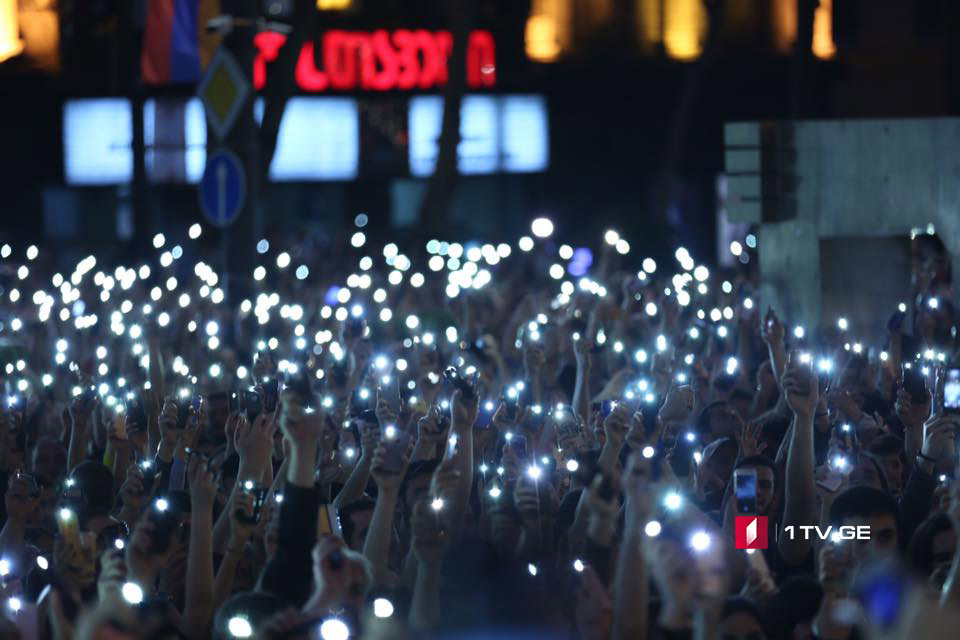 Protest rally continues in front of parliament [photo]
Protest rally started at the Chief Prosecutor's office today continues in front of the Parliament building in Tbilisi . Protesters have marched from Prosecutor's office to the Parliament Building.
Zaza Saralidze, the father of the minor who was killed at Khorava Street, addressed the protesters and thanked them for their support.
The rally continues with the speeches of the participants. Protesters demanded resignation of several persons, including Levan Murusidze, Mikheil Chinchaladze, Nino Gvenetadze. Also, one of the demands is to hold Mirza Subeliani accountable.
Tbilisi City Court has announced decision into Khorava Street case earlier today. According to court's ruling, one of the defendants, who was charged for premeditated murder of two teenagers, was found guilty of premeditated murder of Levan Dadunashvili and announced not guilty with regard to Davit Saralidze's murder case. As for the second defendant, the charge against him has been re-qualified. He has been found guilty of attempted murder of Saralidze, as previously he was charged for premeditated murder. The verdict of the judge was followed by the noise and protest.
Zaza Saralidze, the father of one of victims and his supporters slam the Prosecutor's Office for conducting improper investigation. He demands punishment of offenders and those, who are covering up the crime.
Irakli Shotadze, the Chief Prosecutor of Georgia has reigned today amid mass protest held in front of his Office.