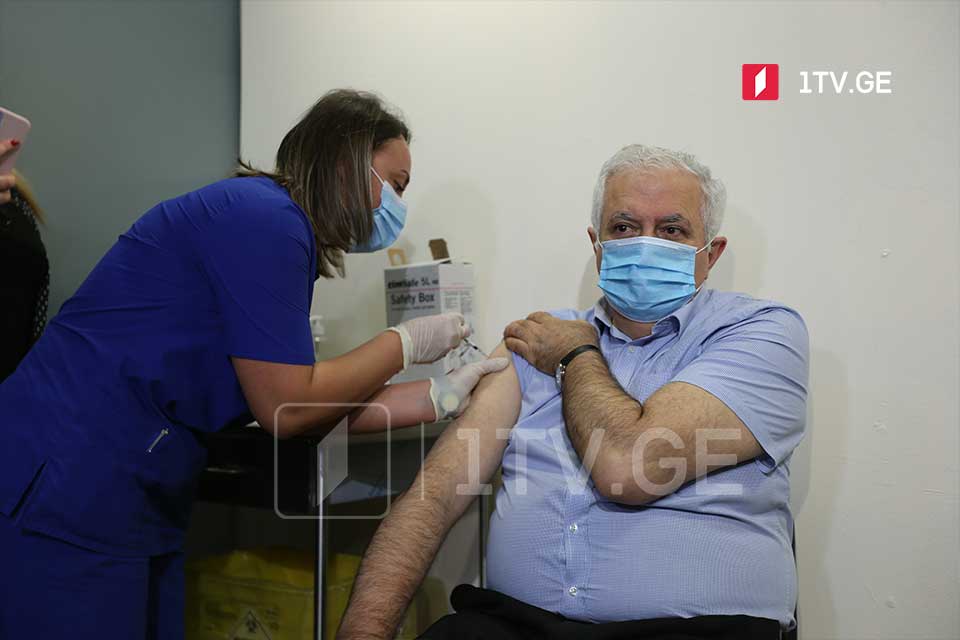 NCDC Head gets Sinopharm jab live on TV
Amiran Gamkrelidze, Head of the National Center for Diseases Control and Public Health (NCDC), got his Covid-19 Sinopharm jab live on TV. Gamkrelidze got his vaccine shot at the Tbilisi Republican Hospital.
"It is symbolic that I get a new vaccine today. It is the third vaccine introduced in the country. The vaccination process started in Georgia on March 15. We began with AstraZeneca jabs, continued with Pfizer and vaccination with the Chinese-made rather well-tested vaccine Sinopharm kicked off today. Forty-five countries administer this vaccine made based on the so-called traditional technology. It is a vaccine based on the so-called inactivated virus," Amiran Gamkrelidze said.
NCDC Head says the epidemiological situation has worsened, although the health sector can manage the number of new cases with no pressure. However, Gamkrelidze stressed the pandemic would hardly end without vaccination. He called on the population to be active and get their jabs.
"The pandemic will not end without vaccination and immunization. The main way to end a pandemic lies through our behaviour. Wearing a face mask is necessary. However, if 60 per cent of the population gets two doses of the Covid-19 vaccine, we will no longer need face masks outside. I call on the society to actively go to the vaccination points and get the jab," said Amiran Gamkrelidze.
NCDC Head said it is crucial to keep the number of daily vaccination in the range of five to six thousand in May-June. Gamkrelidze says everyone should pay his civil duty and immunize.
Registration for the Chinese Covid-19 Sinopharm jabs began on April 27. The Immunization Council greenlit Sinopharm for people aged 18 and above. A total of 17,613 citizens have registered for Sinopharm jabs.
Sinopharm is the third available Covid-19 vaccine for the Georgian population after AstraZeneca and Pfizer.