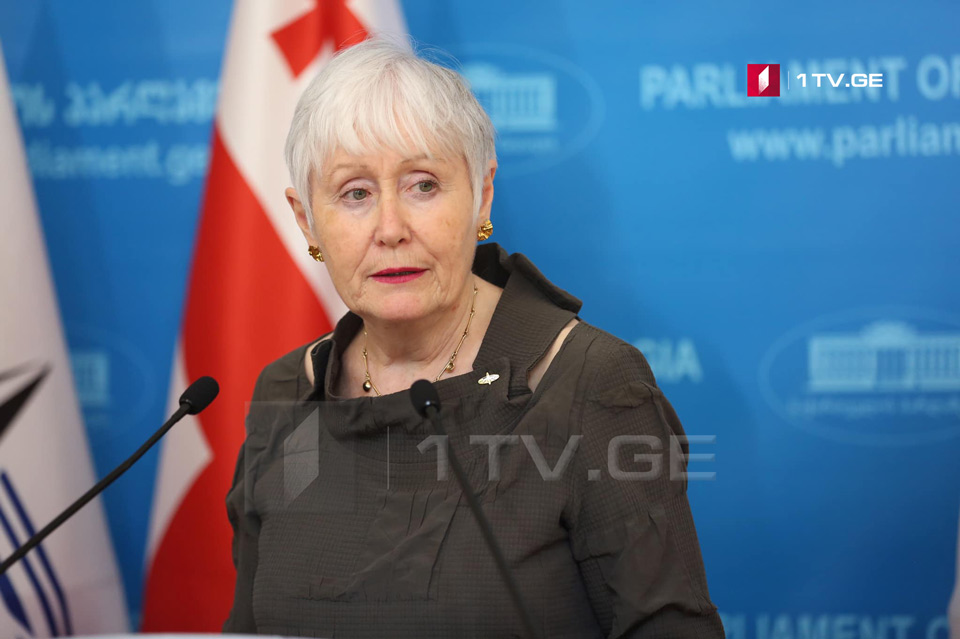 Madeleine Moon: I had very emotional visit to Georgia, wait for my address at plenary session on Monday
Wait for my address at the plenary session on Monday, – President of the NATO Parliamentary Assembly, Madeleine Moon responded to the question of the reporter of Georgian First Channel in London.
Georgian First Channel reminded her about the visit to Georgia and her statement made in Khurvaleti village. During her visit to Georgia, Moon noted that the emotions received on the ground were so impressive that it would not only be reflected only in the Assembly's documents. Asked, what position will have NATO PA  President now when Autumn Session of the NATO Parliamentary Assembly has begun, Madeleine Moon suggested to wait for her address at the 65th session of NATO Parliamentary Assembly on Monday.
"For my part, it will be wrong if I tell you in advance what will happen at the beginning of the week, but I will talk about my visit to Georgia. This country had a special impact on me, it was very real and powerful emotion. It happens always when we see reality and the life of specific people. Especially an elderly man trapped beyond the border fences, who is taking care of his wife with the help of the neighbors. And all this happens without any reason, where is humanity in all of this? It was a very emotional visit. When I said that I wouldn't forget, I won't forget" – President of the NATO Parliamentary Assembly said.
Within the visit to Georgia, NATO PA  President Madeleine Moon arrived in Khurvaleti village which is adjacent to the occupation line.  NATO PA President spoke with Data Vanishvili, who had been left beyond the occupation line, and thanked him for his courage. "Our job is to observe the processes on the ground, ask questions and bring the voice of this person to our next meeting in London. I promise that we will not just write a report, but we will do our best to ensure a broader understanding of the existed situation here", – Madeleine Moon said.
The 65th Plenary Session of the NATO Parliamentary Assembly (NATO PA) was opened in London yesterday.