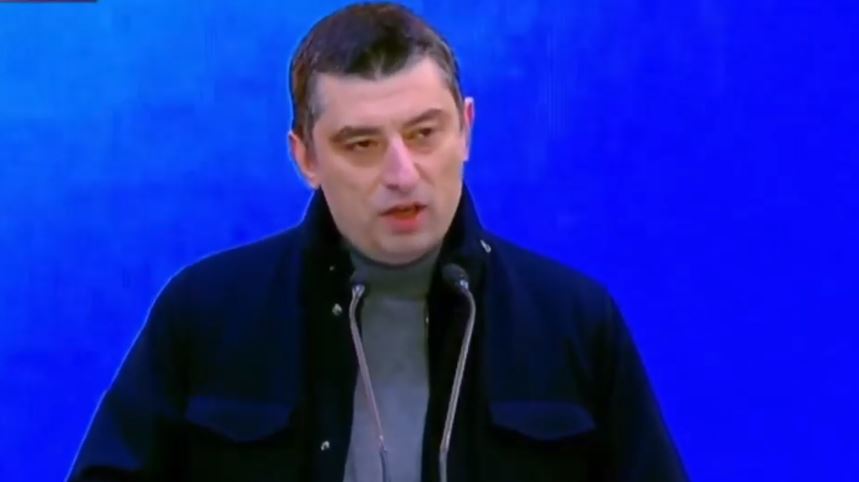 Georgian PM – Our Europeanness is our past, our present, and our future
Europe is the past, present-day and future of Georgia – Prime Minister Giorgi Gakharia said during the speech delivered at the activity "Georgia's Way to Europe" organized at Freedom Square in Tbilisi by the Youth Organization of the ruling Georgian Dream – Democratic Georgia Party and dedicated to Georgia's Chairmanship of the Council of Europe (CoE).
"Let me, first of all, greet our youth! It is your day today! You are the organizers of today's event. Let me also greet our citizens of every generation. I remember well that since April 9, 1991, each of us, each of you have walked the most difficult journey step by step to be closer to Europe.

We can say today that Georgia has been part of the Council of Europe for 20 years. Of course, we should primarily express gratitude to our citizens for this achievement. We should also thank each of our partner countries, however, we should always remember that Europe has always been here! Europe has always been here and it is evidenced by our history.

Thousands of years back, the European quest of Georgia started from the Great Colchis. Back then, when Greek Argonauts found the most important and decent part of Europe here in Colchis, i.e.  Georgia when St. Nino brought Christianity from the Roman Empire in the IV century and since then ideal of the Georgian statehood became the country based on the very European, Christian values.

We all understand it well that today we are not in the most exuberant condition, however what we did in recent years when we were never so close to Europe as today and led to the closest relationship with Europe in the economic context. Today every Georgian may travel to Europe visa-free. It became possible in recent years and each of us should be proud of what lies ahead. We managed to achieve all these together with our leader Bidzina Ivanishvili.

We all understand it well that there are forces that obstruct our European quest. It is unfair that a human being, a medical doctor who crossed the occupation line with a kind will, with noble intentions is in such condition today. We will still endure this, continue advancing and our road will ultimately conclude with a victory in Europe. We should always remember our past. We should know where we originate. Therefore, the European quest of each of us should be based on our traditions.

Once again, let me say to you that our quest and our Europeanness is our past, our present, and our future! Let me congratulate you on this day! Our traditions, our past, our culture, our tolerance, belief and church – our road and our ultimate victory is in Europe," Gakharia said.
Presidency of the @coe marks 20 years of Georgian democratic transformation. Thankfull to our citizens & international partners for making this happen. Georgia's past, present & future is & will be European!https://t.co/bFiLz6l1Kj pic.twitter.com/vmbuZvQWPn

— Giorgi Gakharia (@GakhariaGiorgi) December 14, 2019