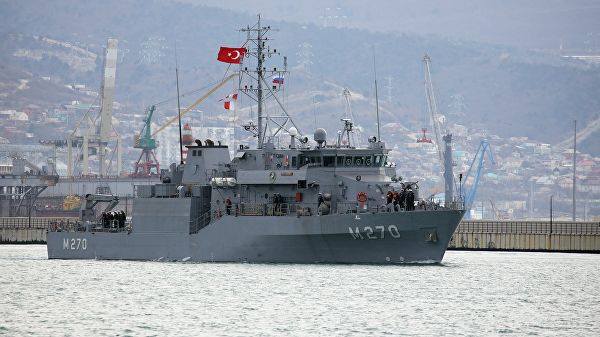 Russia, Turkey Conduct Joint War Games in Black Sea
The Russian Black Sea Fleet's naval ships together with the vessels of the Turkish Naval Forces have conducted a passing exercise to improve interoperability in possible mine danger areas.
Black Sea Fleet spokesman Capt. 2nd Rank Alexei Rulyov said on Friday that, "The crews of two vessels of the Novorossiysk naval base of the Black Sea Fleet — patrol ship Vasily Bykov and minesweeper Valentin Pikul — have held joint Turkish-Russian exercise PASSEX with the crews of corvette Burgazada and minesweeper Akcay."
According to Rulyov, the crews worked on interoperability between the two naval forces in the Black Sea and conducted a passing exercise in possible mine danger areas.
On March 6-8, Turkish warships were in the port of Novorossiysk with a business call as part of national naval exercises dubbed Mavi Vatan-2019.
The drill was part of Turkey's national naval war games "Blue Motherland-2019".
The war games come as Turkish Defense Minister Hulusi Akar announced on Friday that the process of deploying Russian advanced S-400 air defense missile systems in Turkey will begin in October.
As Akar stressed, the S-400 surface-to-air missile systems are needed "to protect the country's population." The United States has vehemently opposed Turkey's acquisition of S-400 since the country is a member of the NATO military block which considers Russia its main adversary.
The S-400 Triumf is the most advanced long-range air defense missile system that went into service in Russia in 2007. It is designed to destroy aircraft, cruise and ballistic missiles, including medium-range missiles, and can also be used against ground installations.
The S-400 can engage targets at a distance of 400 km and at an altitude of up to 30 km.