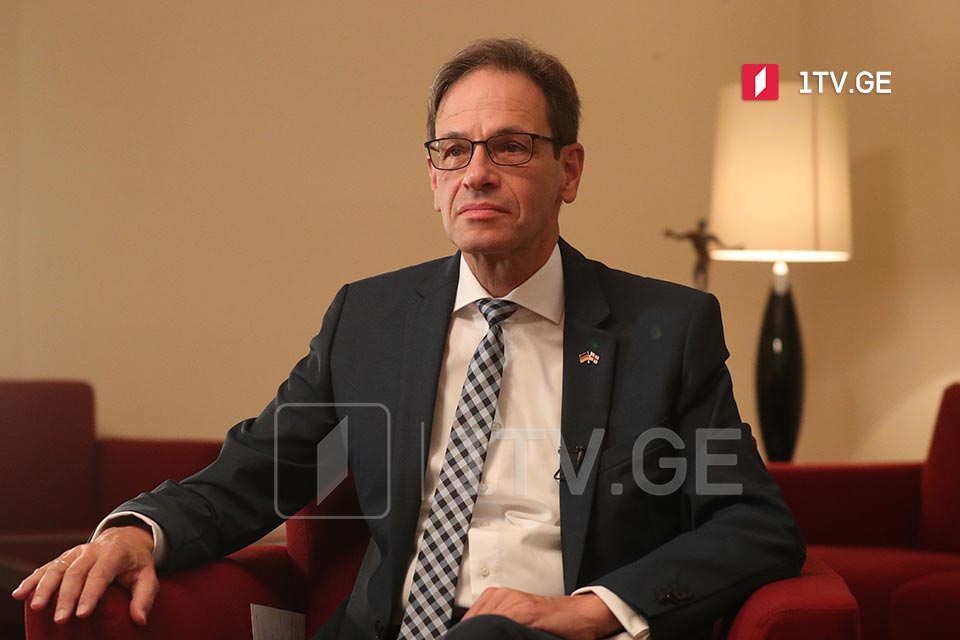 Outgoing German Ambassador says depolarization requires behavior change from politicians, parties, media
Outgoing German Ambassador to Georgia, Hubert Knirsch, on Friday gave an exclusive interview to GPB First Channel on various topics. The European Commission's 12 recommendations for Georgia which could pave the country's path to the EU candidate status, if met, were among them.
Asked about Georgia's chances of meeting all the 12 points in the coming months, the Ambassador said the Georgian institutions, the government, and the parliament should decide "just what needs to be done."
"These changes should be brought in a way that benefits Georgia. In all EU countries, we always strive to strengthen democracy and the rule of law. The same applies to Georgia, as well.

I believe it is possible to achieve great success on this path and convince the European Union that Georgian policy is effective and can achieve the goals it sets," Hubert Knirsch went on.
German Ambassador deemed depolarization the most challenging recommendation for Georgian political parties to bring off as it requires" a behavior change" from politicians, parties, and the media.
"Sometimes I hear that there is even more controversy in the media than in politics. Polarization has affected various spheres of public life, even some NGOs.

People can change their behaviour at any time, it is always possible. I cannot judge whether it will happen or not, or whether there is a high chance of it happening.

I hope the Georgian politicians will take this step for the progress of the country, cut the tension between the parties and improve the communication tone with each other in political life," he underscored.
Alluding to the question of political parties or social circles' desire to take a step towards depolarization, Hubert Knirsch said, the actions of political parties and NGOs are unalike.
"Action is possible in different ways. The work should be handled in the parliament and an invitation has been issued by the legislature.

Initially, some parties clearly stated that they rebuffed to partake in this work, and then they said they wanted to form their stance. I understand this in a way that these parties will voice their position while working in the parliament; otherwise, such an action would not make sense.

Thus, I am not so pessimistic as there is a reaction to the EU desire which also represents the Georgians' desire – the parties to work together to fulfil their tasks, face up to their responsibilities and tackle the problems facing the country," Outgoing Ambassador asserted.
German Ambassador to the United Arab Emirates Peter Fischer will replace Hubert Knirsch as the German Ambassador to Georgia in late August.