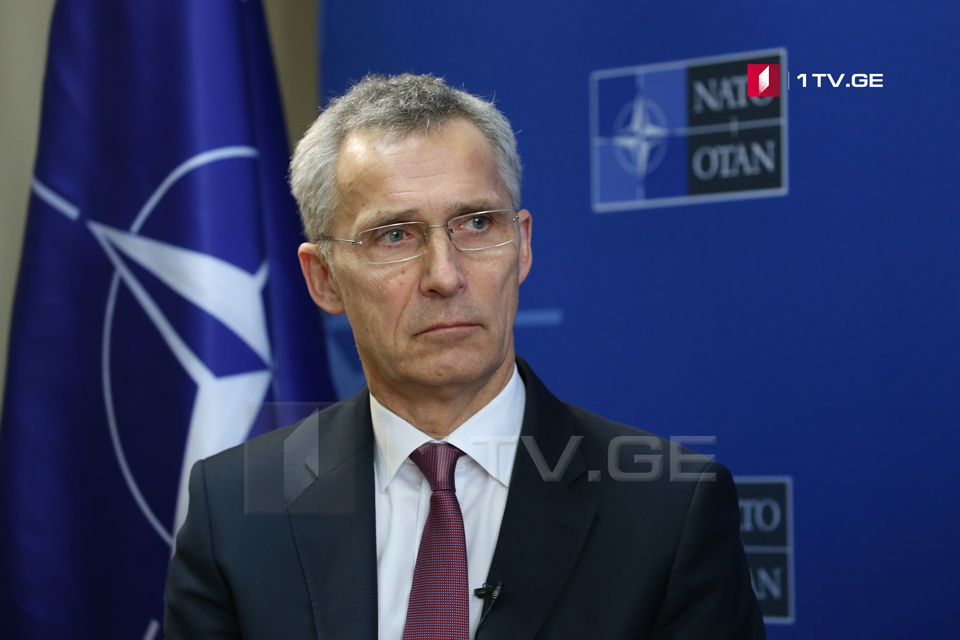 NATO Secretary-General claims Alliance door remains open
"NATO's door is open, and Russia has no right to block Georgia from joining the alliance," NATO Secretary-General Jens Stoltenberg stated at a virtual press conference ahead of the NATO Foreign Ministers meeting in Brussels.
According to Jens Stoltenberg, NATO supports Georgia's aspirations to join the Alliance and helps in this direction.
"NATO's door remains open. By getting new members, Montenegro, and most recently, North Macedonia, we have demonstrated that just over the last few years that our door is open, not only as a kind of theoretical option but as actually as something in real life. That happens in NATO when the Allies agree. And we have a country that is aspiring for a NATO membership that meets the NATO standards. I have recently met with the Georgian Prime Minister, and I conveyed the same message to him. NATO supports the efforts by Georgia to join NATO. We support Georgia in different ways, including by supporting reforms, strengthening democratic institutions and we will continue to do so. I cannot speak on behalf of the United States, but I look forward to having Secretary Blinken here at the NATO Foreign Ministerial meeting, and one of the things we will discuss is also Russia. I say that because Russia has often expressed that they have some kind of right to try to deny countries to join NATO. We saw that most recently when it comes to Bosnia and Herzegovina. And it is not for any nation outside NATO and the aspirant country to decide whether a country becomes a member of NATO or not. It is a sovereign right of every nation, including Georgia, or Ukraine, or Bosnia and Herzegovina, to choose their own path. And then it is for those countries that are applying for membership and the NATO allies and only them, and no one else, no one from the outside, to interfere in that democratic process," Jens Stoltenberg stated.
NATO Secretary-General said that Russia is violating international law and acting aggressively towards its neighbours, Georgia and Ukraine. According to him, the Russian president is responsible for all these actions.
"The relationship between NATO and Russia has been difficult for some time now, and that is a result of Russia's behaviour, violating national law, using military force against neighbours – Georgia and Ukraine. Russia is responsible for aggressive actions against NATO-allied member states through cyber, interference in our domestic political processes, and so on. And this pattern of Russian behaviour over some years has triggered the biggest adaptation of our Alliance. Since the end of the cold war, with the high readiness of our forces, with the deployment of battle groups in the eastern part of the Alliance, with increased spending, and also, of course, the fact that we are stepping up our efforts when it comes to cyber defence, but also clearly condemning the behaviour of Russia when they violate international law but also cracking down on peaceful demonstrators at home. And we see a pattern of aggressive actions abroad and suppression of peaceful dissidents at home. President Putin is, of course, ultimately responsible for all actions taken by the Russian state. And we have seen a pattern of aggressive behaviour, including attempts and targeted killing of opponents, and in NATO, we are, of course, also very concerned about the reports about Russia, promising bounties for the killing of NATO soldiers in Afghanistan. So all of this together, of course, is a pattern, is a behaviour which is unacceptable," Jens Stoltenberg said.
The meetings of NATO Foreign Ministers are scheduled for March 23-24, 2021, at NATO Headquarters.