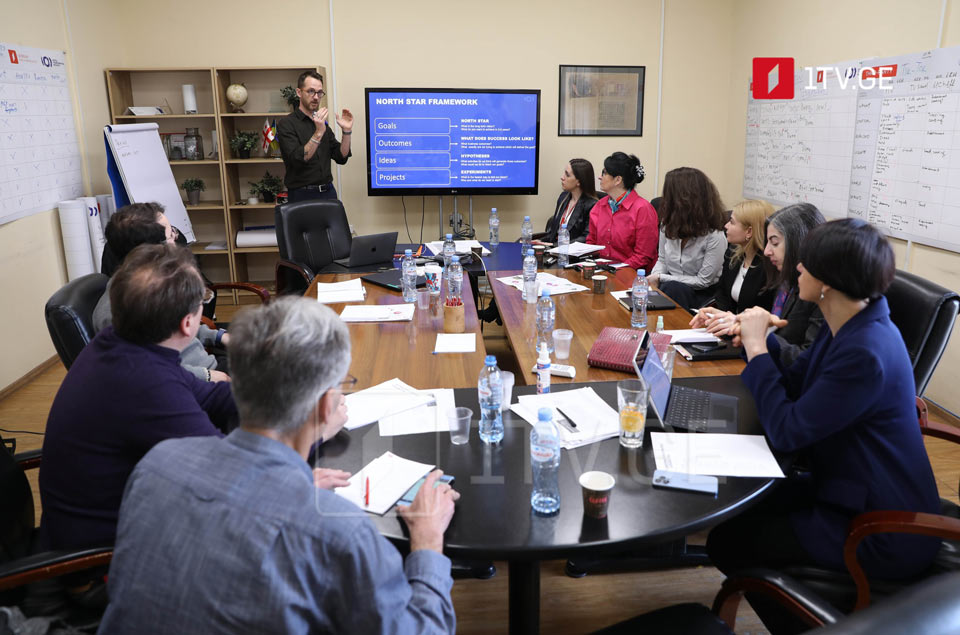 GPB works on distribution strategy
Georgian Public Broadcaster is developing a distribution strategy together with the European Broadcasting Union (EBU) experts. Sasha Scott, Head of Transformation Services at the European Broadcasting Union, and Radka Betcheva, Head of Member Relations Central and Eastern Europe, arrived with a working visit to the GPB within the project.
Media audiences are rapidly changing and fragmenting, therefore, media organizations have to develop new visions and approaches constantly for better product distribution.
GPB places utmost importance on strengthening digital platforms. The latest researches show that the share of getting information through traditional media decreases, and the scale of using social networks and digital platforms increases.
GPB will soon offer the audience Broadcaster Video on Demand (BVOD) service, which will make the original and diverse products easier to access and customer-oriented.
Tinatin Berdzenishvili, Director General of the GPB, stated that media consumption and the media itself have changed, which is not news. The GPB, she says, must look for new distribution channels.
"On the one hand, attracting a young audience in a diverse environment requires consistent proposals; on the other hand, quickly evolving technologies generate new platforms where the GPB must reach consumers.
We've been talking about the GPB priorities and how to reach out to the young generation that doesn't watch television. Whatever it takes to accept it, it is a fact.
The GPB is required to cover all age groups, including people aged 18 to 24, who are not avid TV watchers but actively consume media. We've been considering a distribution strategy for quite some time.
Our content, which is diverse and unique, has evolved drastically over the past few years. We learn through research that people watch a certain program but do not identify it with the First Channel. Therefore, we are launching a strong and new distribution strategy," said Tinatin Berdzenishvili.
According to the GPB Director General, Georgian Public Broadcaster and all EBU member media organizations are involved in this process.
"This group has now arrived in Georgia after visiting Scandinavian countries, the United Kingdom, and the vast European Broadcasting Union network." We have a small working group from all GPB groups that communicate online with the heads of European public broadcasters that are already implementing this plan, as well as visiting specialists.
We will be the next. We are preparing to launch the VOD platform for viewers in May. We think that we will produce new digital media and allow viewers to wander through impressively diversified content. And, most importantly, this content will be relevant, inclusive, and fascinating, since the most engaging content produced by the GPB will be available on this platform," Berdzenishvili stated.
Sasha Scott said the digital distribution strategy would be elaborated based on the exact needs of the Georgian audience.
"We want to understand where the GPB needs to be to meet the audience not just today, but in the future. It is incredibly complicated because the audience is constantly moving, the software is moving, and the platforms are moving. So, it is very important to go into detail to push through difficult questions.
What we have been doing is a lot of mapping, brainstorming, sharing and getting different opinions because anything digital and transformation and new covers all the areas of the company. And we have to have all viewpoints and then build a shared vision of where we want to be," he said.
According to Radka Betcheva, the EBU shares its experience with Georgian colleagues while working on a distribution strategy.
"Georgian Public Service Broadcaster is a valuable member of the European Broadcasting Union. We are facilitating always, in exchange for experience and knowledge. The devoir of public service media is to become more modern and digital, and they are very interested in developing a digital distribution strategy. And since, in the EBU, there is a lot of experience and already accumulated knowledge in this matter, the EBU team is working with the GPB and its managers on the strategy. We believe that it will be useful for managers," she said.