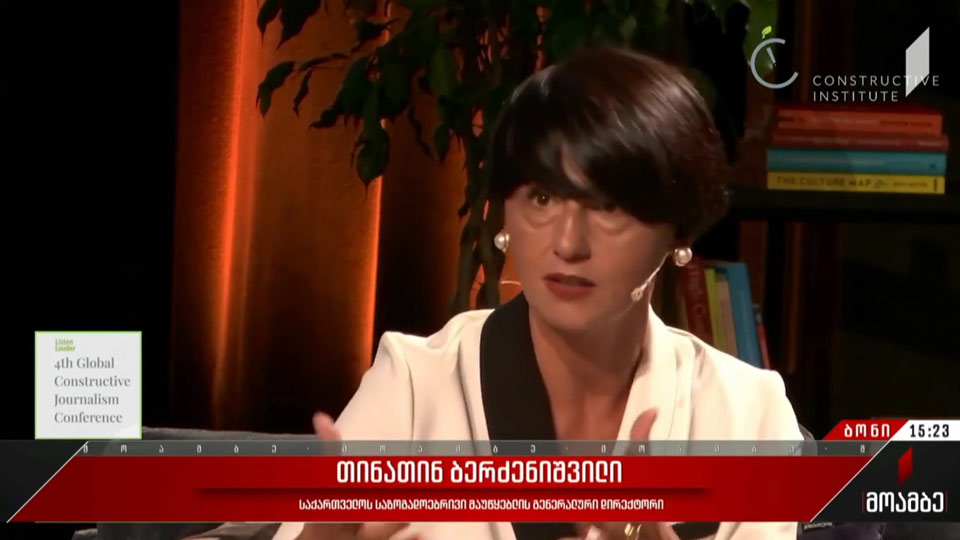 GPB Dir/Gen partakes at Global Constructive Journalism Conference
Georgian Public Broadcaster Director General Tinatin Berdzenishvili took part in the 4th Global Constructive Journalism Conference 'Listen Louder', which took place in Bonn on June 22.
In a panel titled "Why Constructive Journalism is being adopted by journalism leaders as an editorial strategy," participants discussed polarization as the next pandemic and rethinking the role of news reporting at a time when trust in democracy, media, and politics is eroding.
Meeting participants sought answers to the following questions: How can war and conflict be covered constructively? How can we create dialogue in a room of conflict and not dig ditches deeper?
Esben Seerup, CEO of Danish TV2 Fyn, Jeremy Griffin, Executive Editor of The Times and Debarati Guha, Head of the Asia Department of DW joined the panel.
"There is a high polarization in our [Georgian] society and even more in the media industry. The question was, do we like what is happening there? We understand as management, as a team, that no we don't like, but then we've realized that we are not better, we have to change, and how to change. Then we started to find some different solutions. After, we were inspired by Ulrik Haagerup's book. It was very interesting for the whole team. We translated it very quickly and distributed it to the newsroom. Before, we started the integrated newsroom project, we are radio, TV and online. So, we put the people together. It seems that it is very easy, but it was a big change, because radio did not what to recognize television, television did not want to recognize radio… so it was a big mess, but now they are happy and understand that this is one newsroom and everybody now want to be constructive," as delivered by Tinatin Berdzenishvili.
The GPB First Channel has been practising constructive journalism, a standard of reporting already widely adopted in leading European countries, for several months now. Eleven journalists from GPB have already completed a course at the Institute for Constructive Journalism at Aarhus University in Denmark. The training will resume in September 2022.