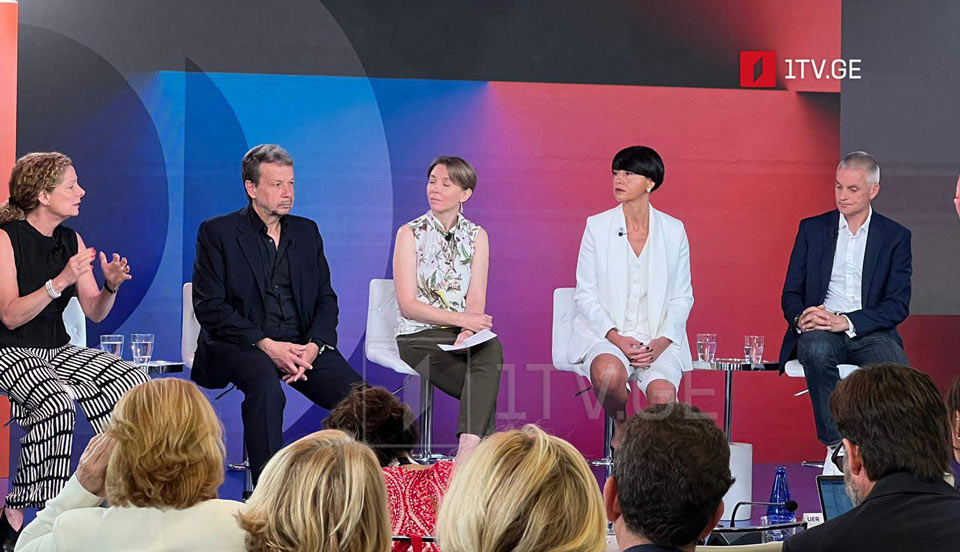 GPB Dir/Gen addresses EBU General Assembly panel discussion
Tinatin Berdzenishvili, Director General of the Georgian Public Broadcaster (GPB), appeared as the Speaker at the panel discussion on public media impartiality at the European Broadcasting Union (EBU) General Assembly.
Tim Davey, Director General of the BBC; Gilles Marchand, Director General of the Swiss Public Broadcaster; and Cilla Benkö, Director General of Swedish Public Radio, attended the session.
Berdzenishvili emphasized public broadcasters' unique role and functions.
"Public broadcasters adhere to a high media standard that remains free from any form of biased influence and fulfils the constitutional mandate. Despite challenges related to polarization and advancements in technology, public broadcasters contribute to society's well-being, unity, and integration, which are essential and irreplaceable," stated GPB Dir/Gen.
The EBU General Assembly addresses various topics, including the Executive Board's report, and annual and financial reports of the organization. Special thematic sessions and panel discussions cover subjects in modern media, including artificial intelligence, the transformation of the new era, public broadcasters' impartiality, and compliance with the goals outlined in the European Act on Freedom of the Media.
RTVE, the Spanish national broadcaster, hosts the 90th General Assembly in Madrid, Spain. This summer edition is an invitation-only event for top executives from EBU Members, Associates, Sister Unions, and Committee Chairs.
The General Assembly is the supreme governing body of the EBU and possesses all powers necessary for accomplishing the Union's objectives. The Assembly meets twice a year: the summer session is open for all Members and Associates and is hosted by a Member organization; the December session is limited to Members and is held in Geneva.