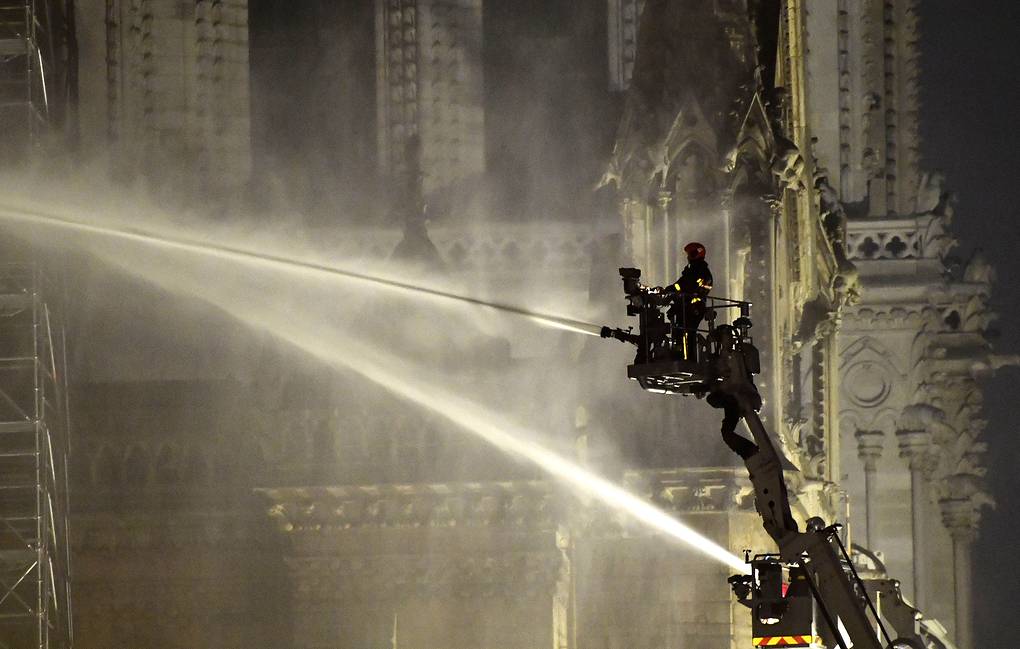 Fire at Notre Dame Cathedral put under control (Photo)
The fire at Notre Dame Cathedral in Paris has been put under control for the time being. The blaze burned for eight hours but has now been largely extinguished, according to firefighters.
Paris' Notre Dame Cathedral has been saved from "total destruction," according to a French fire official, after a massive fire ripped through the structure on Monday and caused the roof and the main spire to collapse.
"The worst has been avoided, but the battle isn't fully won yet," French President Emmanuel Macron said in a statement outside of the cathedral. He also expressed his sympathies to Catholics around the world, the people of Paris and the people of France. The fire broke out just days before Easter.
"We will rebuild the cathedral together," Macron said, adding that France will start an international fundraising campaign to raise money for the renovations.
Notre Dame's centuries-old wooden roof beams, stone exterior and soaring Gothic architecture made Monday's blaze especially difficult to tackle and Paris firefighters deserve praise for their efforts, experts say. The spire and most of the roof of the centuries-old cathedral have been destroyed, but the two bell towers and the main edifice were saved.
Video released by the French Interior Ministry showed the scale of the response. Authorities deployed some 400 firefighters, pumped water from the Seine and flew drones to survey the damage.