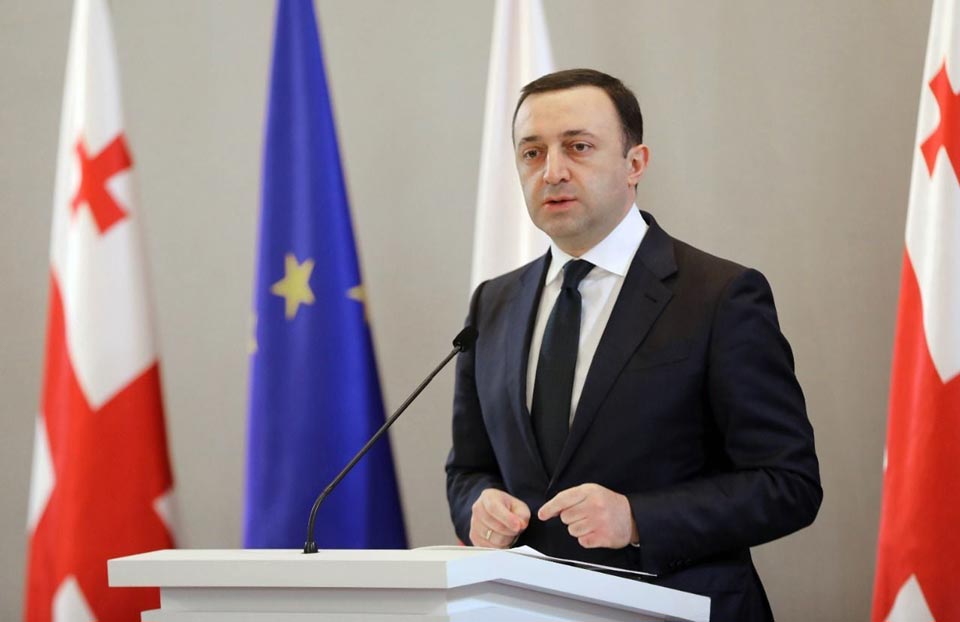 EU membership to be Georgian citizens choice, PM says in Davos
The EU membership is a choice of the Georgian citizens, stated Prime Minister Irakli Garibashvili during a panel discussion in Davos, pledging the Georgian government to do "the maximum in order to get closer to the EU, get closer to the ultimate goal which is full-fledged EU membership."
PM Garibashvili stressed that "Georgia has been a very reliable and loyal partner of the European Union. And this is a choice of our people, it does not belong only to the Georgian government, but is a choice, I would say, it is a civilizational choice of the Georgian people. And we have been we loyal, very keen partner to the EU because we share the same values, same principles."
"In 2014, we signed Association Agreement (AA), this is the main document, this is a roadmap for our ultimate goal which is the full-fledged EU membership. Since then, of course, we have a free trade agreement, and we have some tangible results such as a visa-free regime which is also very important to the Georgian citizens. And of course, just recently, we have submitted the application for the EU membership.

Whatever brings us closer to the EU, to the EU membership, is of course acceptable for us because we have no other alternative. As I said, this is the choice of the Georgian people and we will do whatever we can, we will do the maximum in order to get closer to the EU, get closer to the ultimate goal which is full-fledged EU membership," the PM underscored.
Alluding to the expectations of the Georgian people, the PM said: "Now we need to manage the expectations of our people, because we believe, as I said we are very loyal to the European values, principles, we are doing democratic reforms, we do all necessary things that are into the AA."
"We have fulfilled more than 45% of the AA. We are embarked on a very ambitious reforms agenda since 2014. We have been doing lots of improvements in every direction whether this is rule of law, judicial reforms, or open government. In every direction, we have huge, tangible progress and people see it. Now the question is whether we raise this expectation, we tell our people that Georgia will get this as this was said symbolic, let's say political declaration, and acknowledgement that Georgia is part of the EU family or we should explain to them that this is not the right time, and we should consider it later. We need to see action now and today," the PM stated.
Davos, Switzerland is hosting the World Economic Forum 2020 on May 22-26. PM Garibashvili today partook in a panel discussion on Rethinking the EU's Partnership with its Neighbourhood.
Rethinking the EU's Partnership with its Neighbourhood with @MatinaStevis, @nytimes, @AlarKaris @EstonianGovt, @GharibashviliGe, Alexander Schallenberg, @natgavrilita @GuvernulRMD #wef22 https://t.co/xEr44P3SbS

— World Economic Forum (@wef) May 25, 2022