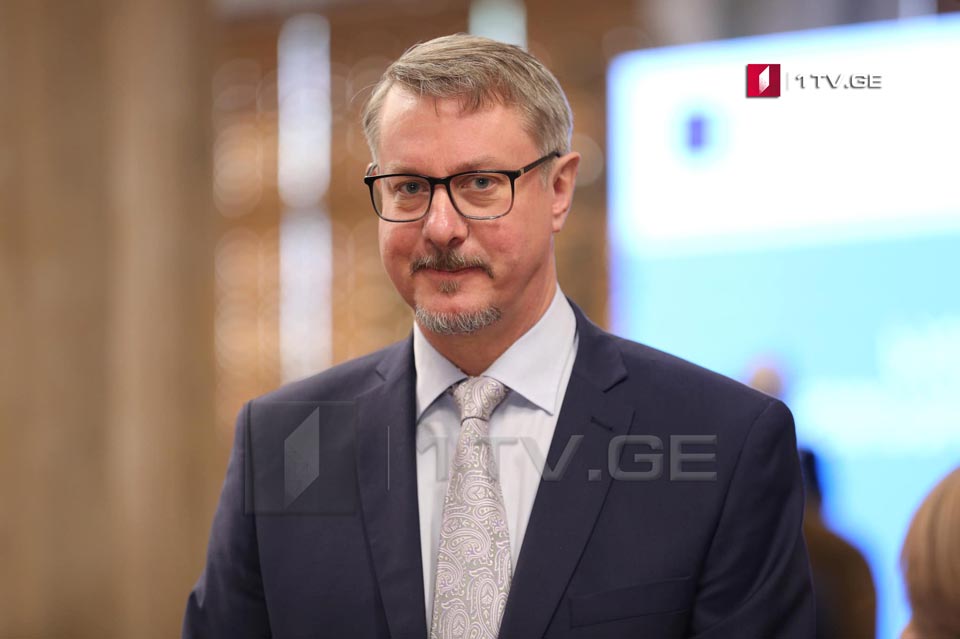 EU Ambassador: Georgian, European values solidly compatible, spring from same source
The EU Ambassador to Georgia, Carl Hartzell, said Georgia's European path is built on solid ground.
"Not only was Georgia there at the very beginning of Europe's ancient history and culture. Not only was Georgia at the forefront of contemporary European political philosophy only some century ago, as testified by the constitution of 1921. This heritage remains deeply enshrined to this day in the citizens and society of this beautiful country," Ambassador said during his opening speech at the Joint Conference of the Government of Georgia and the Georgian National Platform of the Eastern Partnership Civil Society Forum "European Choice of the Georgian People – Challenges and Future Perspectives."
"And this is crucial. Because it is one thing to formulate a pro-European strategy based on hard-headed geopolitical and economic analyses. It is quite another to pronounce these same aspirations based on the support of more than 80% of the population.

Fundamentally, as we know, the entry ticket to deepened European integration and cooperation boils down to shared values. And here, I remain firm in my assessment that – whatever attempts are being made to exploit perceived differences between Georgian and European values – not only are they already solidly compatible, but they spring from the same source. And that is an additional strength.

Yesterday, we celebrated Georgia's Independence Day. In fact, these days, every day in Georgia is Independence Day. But, as we know, this has not always been the case and nothing can be taken for granted. Working day-by-day to develop Georgia's security, its economy, its export potential, its tourism industry, its educational system, its environment, and energy supplies, and its democratic institutions are all part of the work that all of us gathered here today are taking part in. And it is all part of making sure that Georgia will remain the strong, prosperous, and sovereign country we all aspires for it to be.

I see this conference as a great opportunity to bring out the ideas needed to calibrate Georgia's response to the challenges ahead, as well as to grasp the opportunities that lies in your way (some of them just outlined here by the Commissioner).

I don't think I need to add to what the Commissioner said about the important role we see in civil society when it comes to reaching these objectives. We know how important a vibrant civil society is for a country's development. We know how important your role is to reach out to decision-makers, to the regions, and to people, including those who need extra attention from society.

And I hope you know how much we appreciate working together with you, as you also help the European Union to achieve what we are setting out to do through our assistance and policy advice here in Georgia," Carl Hartzell underscored.