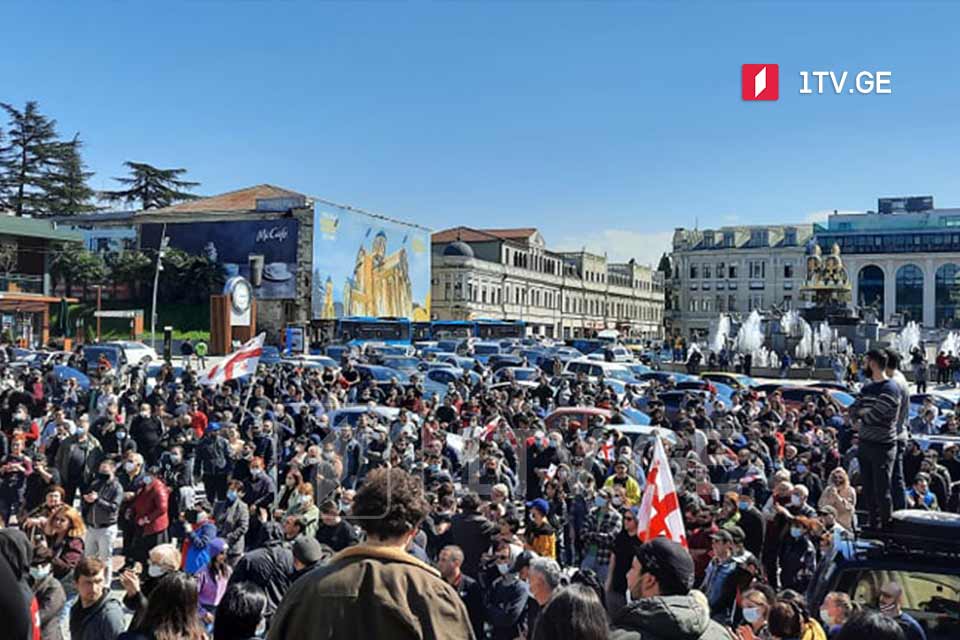 Economy Minister calls on anti-Namakhvani HPP protesters to postpone ambitions, adhere to dialogue
"I would like to address the protest activists, those who are quite categoric and protest against the construction directly in the village of Namokhvani. Let's put aside all ambitions and do not give up on dialogue!" Minister of Sustainable Development Natia Turnava made a televised statement.
Turnava said the involvement of specialists is the best format of the dialogue and questions and answers. The Economy Minister once again called on the protesters not to refuse discussion for various artificial reasons. The Minister believes ultimatums are a disastrous path and called on the activists to show patriotism and talk about the most important project at the dialogue table in a calm atmosphere.
Varlam Goletiani, an organizer of the anti-Namakhvani HPP protest, addressed the people gathered in the central square of Kutaisi in western Georgia. He said the protesters could spend day and night at the street, picket the central square, and become a part of an unprecedented process.
"It will be an action that surprises the world and shows everyone our spiritual and moral face," said Varlam Goletiani. He added it is crucial to keep calm and give a voice to the government.
Georgian Patriarchate echoed the protest rally against the construction of Namakhvani HPP in the Rioni Gorge.
"The tensions that accompany the processes in the Rioni Gorge are disturbing. We respectfully ask all parties to promote the peaceful and fair conduct of the processes," the statement by Patriarchate reads.
Patriarchate stressed it is necessary to establish a dialogue where stakeholders, responsible persons and specialists can ask important questions and hear the answers.
"Further escalation of the situation is not allowed, the categorical tone is not allowed, it does not leave the room for listening to each other," the Patriarchate said.
The Ministry of Economy and Sustainable Development and the Ministry of Environment and Agriculture of Georgia welcomed the Patriarchate's appeal on Namakhvani HPP. In a joint statement, the governmental bodies reiterated that further escalation is unacceptable and inadmissible.
Adversaries of the Namakhvani HPP construction are holding a rally in the village of Gumati since this morning. Later today, they moved to Kutaisi, held a rally and announced a plan to spend the night there.
Anti-Namakhvani HPP protesters have been holding rallies for several months. Protesters demand the Economy Minister's resignation and direct involvement of PM Irakli Garibashvili in the negotiation process.