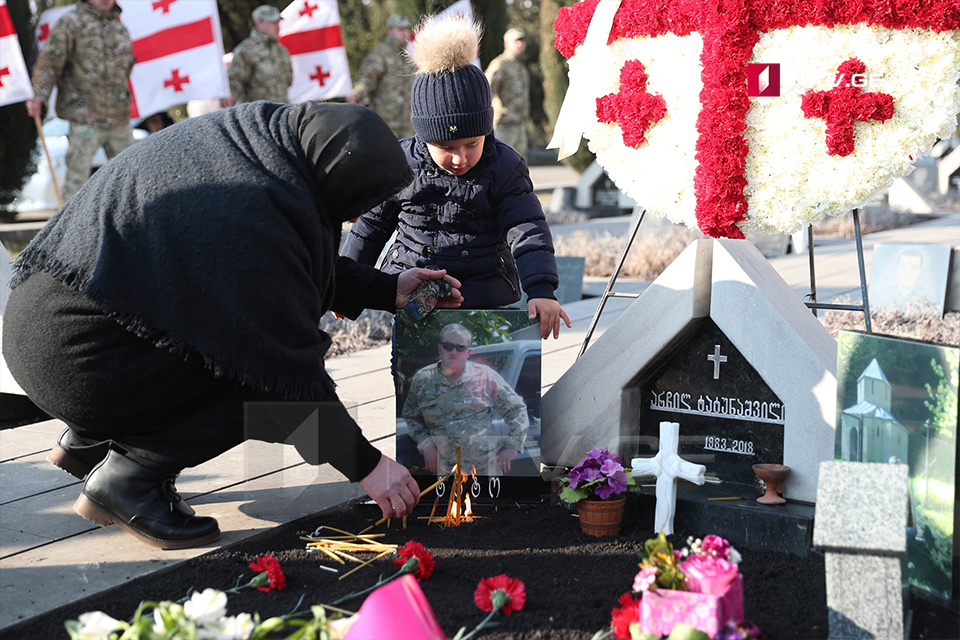 Archil Tatunashvili commemorated at Mukhatgverdi Brothers Cemetery
One year passed after the murder of Archil Tatunashvili, Georgian soldier who was detained and tortured by the occupational Tskhinvali region. Tatunashvili was commemorated at Mukhatgverdi Brothers Cemetery today.
Rusudan Tatunashvili said that she was proud of his son, who was a hero both alive and after death. "My son sacrificed his life for the motherland. He could not step on the flag or a cross. This tragedy will never end for us. The fire of hell will always be raging," Rusudan Tatunashvili told journalists.
Giorgi Tatunashvili, father of Archil Tatunashvili thanked everybody, who cherished the memory of his son. Prime Minister Mamuka Bakhtadze and members of the government visited and lay wreaths at Tatunashvili's grave earlier this afternoon.
Archil Tatunashvili, Georgian soldier was detained by the occupational regime on February 22. He died in Tskhinvali hospital on February 23. The heart attack was named as the reason of death. Archil Tatunashvili's body was repatriated from occupied Tskhinvali on March 20.
The examination of Tatunashvili's body was conducted on March 20-21 at Levan Samkharauli National Forensic Bureau. The medical expertise concluded that the body had over 100 injuries. Archil Tatunashvili was buried at Mukhatgverdi Brothers' Cemetery with military honor on March 24.