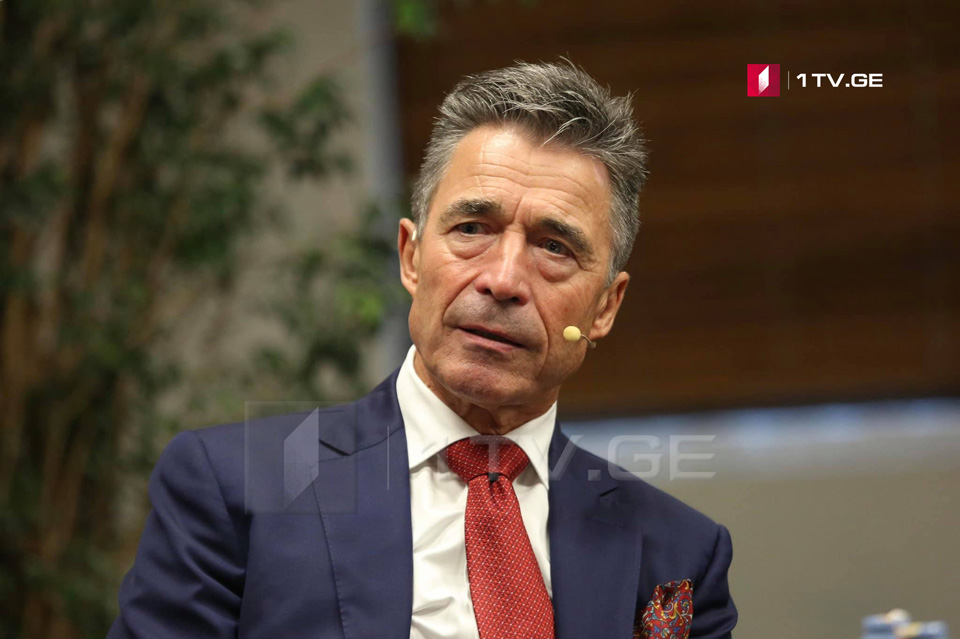 Anders Fogh Rasmussen: It should be considered whether you want to join NATO with mechanism, when Article 5 covers only territory controlled by Georgian Government
Georgia must take the reform process very seriously and continue reforms not only in the military sector, – Anders Fogh Rasmussen, former Secretary-General of NATO said at a fifth international conference organized by the McCain Institute and the Economic Policy Research Center (EPRC) in Tbilisi.
He said Georgia had achieved significant results, especially in terms of military.
"I think Georgia has gone a long way and achieved great results. When it comes to the military, you have demonstrated the ability to meet NATO standards. However, of course, you have also expanded the scope of the reforms, strengthen the fight against corruption, it is about the guaranteeing the rule of law, etc. You have to keep going on this way.
We also have to consider another aspect both in Georgia and within the NATO, namely, the question about Abkhazia and South Ossetia. Because if one day we consider Georgia ready to join the Alliance, we also have to make sure that Article 5 is still credible, which would require NATO to actually help Georgia if Georgia is attacked. But obviously, having unresolved border disputes with Russia in Abkhazia and South Ossetia is a problem. The question is – how could that be resolved.  I think this issue should be discussed internally in Georgia, would you, in this case,  be willing to accept such mechanism, according to which Article 5 of NATO will only cover the territory which is actually controlled by the Government of Georgia. And in NATO we have to reflect exactly the same question ", – Anders Fogh Rasmussen said.
As he noted the similar precedent was in the case of Germany.
"We had a similar precedent. I mean Germany, which was divided into western and eastern parts. Germany entered NATO in 1955, but only West Germany. NATO rules did not apply to East Germany. But, when Germany was reunified in 1991 the NATO rules extended to East Germany as well. In principle, similar arrangements could be elaborated for Georgia as well. Of course, it is controversial and it should be discussed both in Georgia and within NATO. But, I think we have to confirm it because otherwise, we provide de facto veto to President Putin, who can permanently prevent Georgia, Ukraine and other neighboring countries from joining NATO just by creating similar conflicts", –  former Secretary-General of NATO added.