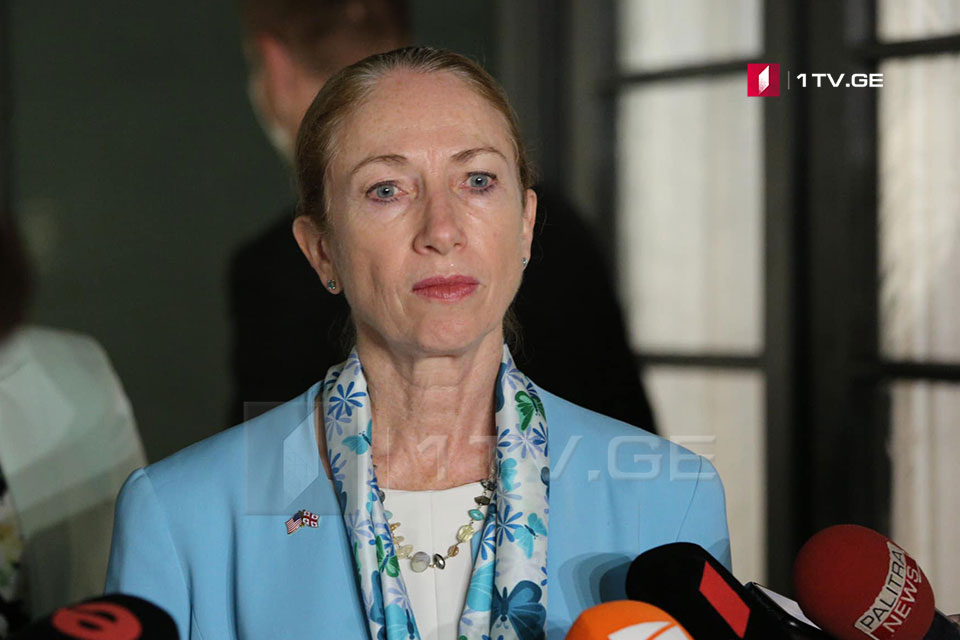 'There is no one at U.S. Embassy who tried to influence or pressure any judge,' Ambassador Degnan says 
U.S. Ambassador to Georgia Kelly Degnan Thursday said, "we do not use our programs to sanction or to punish anyone." "Our programs are open to judges, prosecutors, attorneys who are interested in attending, qualified to attend, available to attend, and open to benefiting from these exchanges with their U.S. counterparts and U.S. legal experts," she went on.
Yesterday, former members of the Georgian High Council of Justice (HCJ), Zaza Kharebava, Shota Kadagidze, and Levan Gzirishvili echoed judge Lasha Chkhikvadze's allegation of U.S. interference in the judiciary.
After sending Mtavari Arkhi TV Chief Nika Gvaramia to prison and before his planned U.S. study trip, Chkhikvadze said he was solicited by U.S. Department of Justice representative Kevin Burke "about the factual circumstances" of the Gvaramia case as well as his decision to put TV Chief behind bars. Soon after the meeting with Burke, Chkhikvadze said, "I was removed from the list of participants."
Former judges said, "to date, the judge [Chkhikvadze] has not received an answer whether he was "punished" for this guilty verdict."
Kelly Degnan stressed "our work with the judiciary here over the past years has been focused on helping Georgia develop an independent, impartial, transparent judiciary that issues decisions based on the law, based on the evidence presented, and issued in an independent way."
"It's very unfortunate to hear that judges are being pressured here, but I can assure you that pressure is not coming from the United States Embassy. I'm very pleased to have had the opportunity to meet with a number of judges here in Georgia, including the Chief Justice of the Supreme Court and the Chair of the High Council of Justice on several occasions. In those meetings, we have discussed the very successful cooperation that the United States has with Georgia in helping Georgia develop a stronger, more independent and transparent judiciary. And this has been very successful work.

There is no one at the U.S. Embassy who has tried to influence or pressure any judge or influence the decision of any case. That is simply not the way we operate; it's not the work that we are doing with the judges. As I said, our work emphasizes the ability to issue clear impartial decisions that are based on the law and based on the evidence presented," she stated.