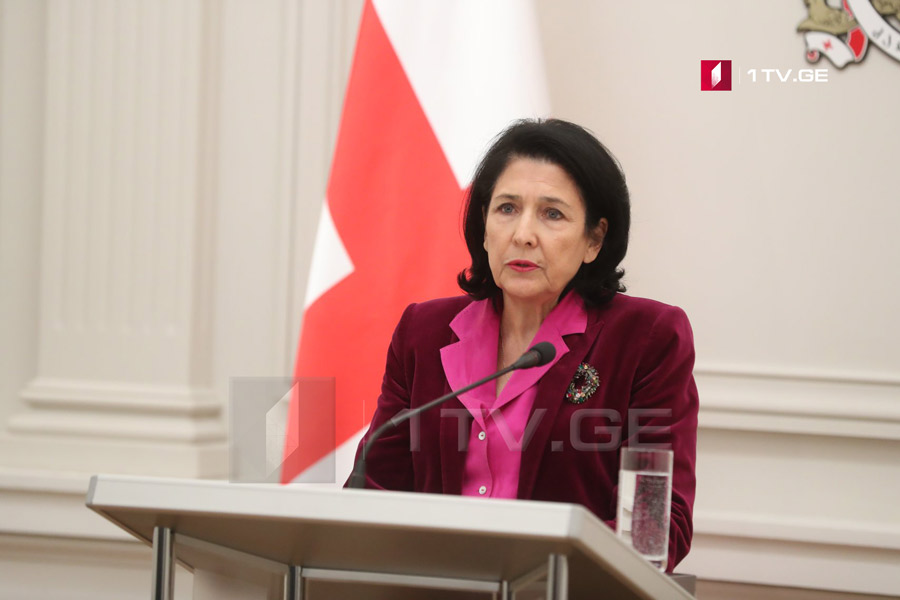 President sees Georgia's security in EU, NATO integration
"We need a quick and sure path toward integration into the EU and NATO. It is where we see our ultimate security," Georgian President Salome Zourabichvili said in an interview with Deutsche Welle.
President believes that Georgia's security could not be a war "because we can never win a war with Russia".
"Georgia's EU path has now become a reality thanks to what the war in Ukraine has shown to the European leaders that the path provided before is a long-term perspective. It does not give those countries the sense of belonging we deserve after all these years. One of the ways to show support for these countries against these threats and aggression is to embrace them, the realization of which we are seeing now," President stated.
To the question: "If the European countries had acted sooner, some of the events could be prevented in the region," Zurabishvili refrained from imposing responsibility on one side or the other, adding that "European countries and the US could have done more, but only Russia is responsible for the events".
To the question, "does the Georgian government do enough to show its support for Ukraine", President answered that the "government is just more realist about what Georgia can do at this stage". She said that Ukrainians demand more not only from Georgia but also from other partners.
"Ukrainians would like to receive arms from Georgia, to have Georgia opening a second front. All of that is not possible. The government is just more realistic about what Georgia can do at this stage, having two occupied territories, one of which is now talking about a referendum to join Russia. So clearly, we have to be careful because we don't have many means, and nobody would be ready to support Georgia in the same way. But that does not change the level of solidarity that we have", she said.
According to Zourabishvili, Georgia fully supports the sanction regime.
"Georgia is fully applying sanctions. And we are seeing now the effects internally on the economy. We are sharing all the international sanctions completely. So what the government was saying is that we are not adding to the existing sanctions, which we are complying with, and sometimes overly. We're not adding national sanctions. We do not know very well what would be the additional national sanctions that Georgia could inflict upon Russia," President said.