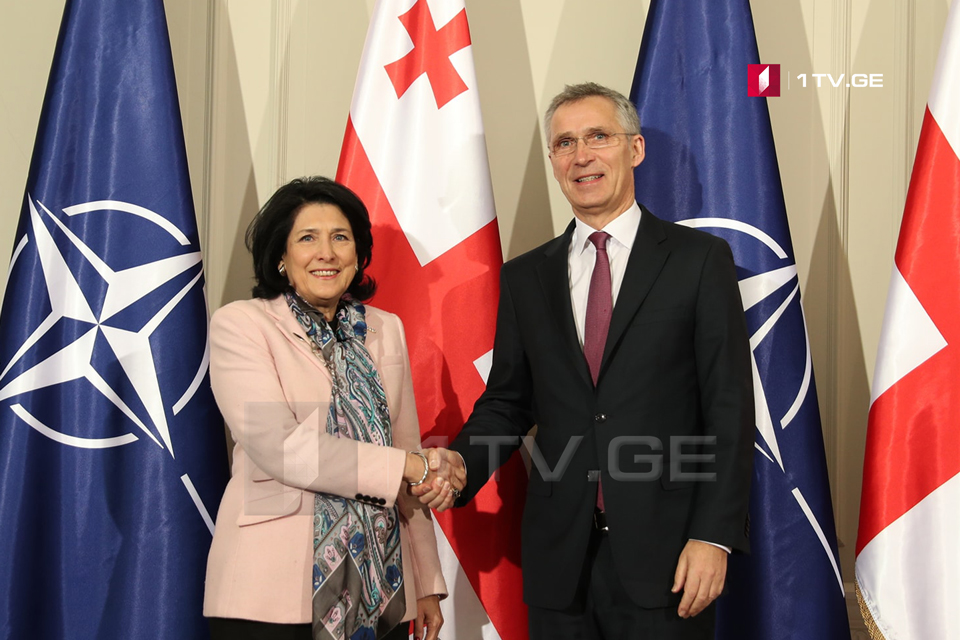 NATO Secretary-General: Georgian President's presence demonstrates close partnership between Georgia and NATO
Georgia is one of NATO's most important partners. We have a close political partnership and strong practical cooperation, Jens Stoltenberg, NATO Secretary-General, declared at the joint press conference with the President of Georgia, Salome Zourabichvili.
According to Stoltenberg, the Georgian President's presence at NATO HQ demonstrates, once again, the close partnership between Georgia and NATO.
"Despite the challenges of the COVID-19 pandemic, NATO and Georgia continue to strengthen our partnership. At today's meeting of the NATO-Georgia Commission, we will take stock of our achievements, and assess what more we can do together," NATO Secretary-General said.
"Last year, we upgraded the Substantial NATO-Georgia Package. This helps Georgia to implement reforms, enhance its ability to operate with Allies and continue to contribute to our shared security. Our key priorities include secure communications, and actually, the President and I discussed training and exercises and enhancing our maritime support and situational awareness during the meeting today," Jens Stoltenberg elaborated.
NATO Secretary-General echoed the ECHR judgment in Georgia v. Russia war case.
"I took good note of the ruling by the European Court of Human Rights. It confirms that Russia is responsible for human rights violations in Abkhazia and South Ossetia and that Russia actually exercises control there. It only strengthens our call for Russia to comply with national law and respect Georgia's territorial integrity," Stoltenberg said.
"In our meeting, we also discussed the progress Georgia is making on reforms. This is crucial. Because progress on the reforms brings you closer to our shared goal -membership of NATO.
Today we addressed Georgia's commitment to our Resolute Support Mission in Afghanistan. Georgia has long been one of the largest troop contributors to NATO's training mission. We appreciate the professionalism of Georgian men and women in uniform. And we all know the sacrifices you have made," NATO Chief declared.