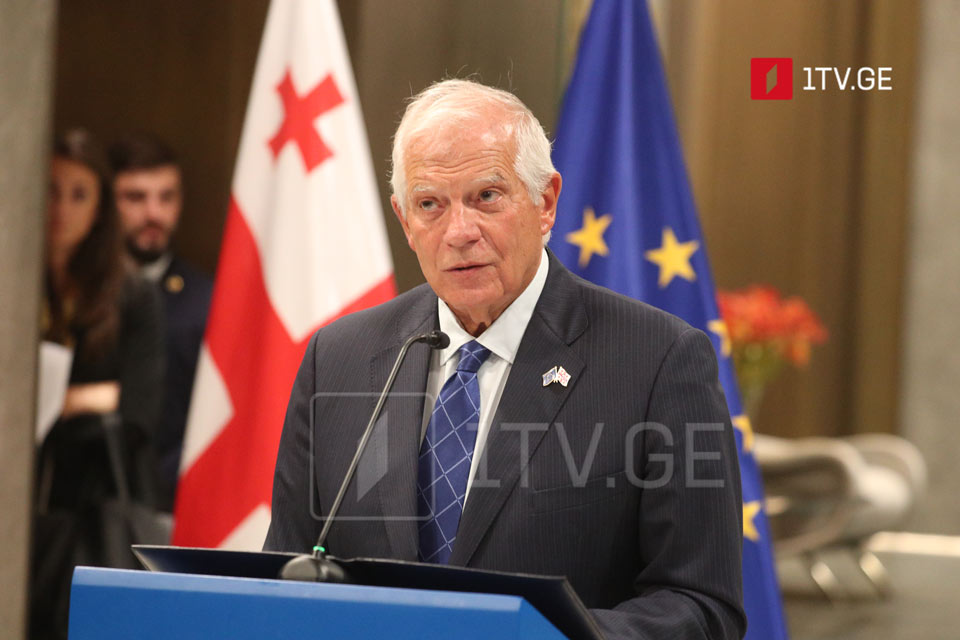 Georgia belongs to the European family, Josep Borrell says
EU membership is the biggest transformative power and security commitment that can be, the High Representative of the European Union for Foreign Affairs and Security Policy, Josep Borrell, stated at a joint press conference with Georgian Prime Minister Irakli Garibashvili on Friday.
According to him, hard work is worth not only for becoming an EU member but for improving the everyday lives of citizens. He expressed his appreciation for Georgia's commitment to European values and its aspirations to join the EU.
"I have three main messages to share with you and with the Georgian people during my visit.
The first message is that no doubt Georgia belongs to the European family. I wanted to come here to deliver this message in person to the Georgian people, and visiting your country is clear that the EU hears, and the EU sees the overwhelming European aspiration of the Georgian people. 80% support for the European Union is an impressive figure. But it's not only I figure. I am really inspired to see the many European flags on the streets of Tbilisi, and there are many more European flags here than in Brussels.
Prime minister, you made your plea today for candidate status. It's a call that we have heard over the past month consistently from the authorities, from the opposition. and from the civil society represented. In the same way, all political forces need to work together constructively. Here is my discussion with your parliamentarians today. The majority has to be inclusive. Minority has to be cooperative. This is a national endeavour. And the government and the party in power should work on creating an environment that makes this cooperation possible.
At this moment, all efforts should focus on eliminating political tensions. Don't miss this historical opportunity. You need to work united. Because the next steps under the European path for Georgia, we depend on the merits, and results achieved. And the result will be achieved thanks to the united work of all political forces. Your tasks are clearly mapped out with 12 priorities that we have been putting forward in the commission's opinion.
And, as of June, you deliver it on three of them. And the other nine. Remain to be done. But it's still time to do it.
Work needs to be done first on depolarization of the political life, the de-oligarchization of economic, political, and social life, justice reform, and electoral reform, on media pluralism and on human rights. And there are no shortcuts. Accession requires hard work, political will, and a clear commitment to the European Union values.
But let me tell you from my own experience. This hard work is worth it. It's worth not only for becoming a member of the European Union but for improving the everyday life of your citizens. EU membership is the biggest transformative power and security commitment that can be. I'm saying that from my experience, the biggest transformative power and their strongest security commitment," Josep Borrell stated.
High Representative also expressed support for Ukraine in its conflict with Russia and urged international partners to coordinate efforts to isolate Russia. Borrell regretted the resumption of flights between Georgia and Russia and emphasized the need for Georgia to counter Russia's hybrid activities, including disinformation.
"My second message is related to Russia's aggression against Ukraine. We are supporting Ukraine and we will support Ukraine as long as it takes. And we will conduct a clear position of Georgia in the international fora in this regard. It's crucial that our closest partners coordinate efforts to internationally isolate Russia, and therefore we welcome very much EU close cooperation and efforts on prevention of sanctions circumvention. A lot has been done. And it is important to express clear recognition for your efforts. But also, I have to say that we regret the resumption of flights between Georgia and Russia. It is part of the alignment of Georgia with our foreign policy. This is a commitment, the alignment that Georgia undertook under the association agreement. And what we expect from those countries who aspire to become members of the European Union.
And right now, certainly, there is a lot of room for improvement. We also need your engagement to counter Russia's hybrid activities starting with the Russian war propaganda and disinformation.
That's why the European Union will continue supporting independent media and civil society to have the Georgia people build resilience to information manipulation, including disinformation, which is the most important thing to have a vibrant democratic system, fair information, information is the plot of democracy," Borrell declared.
He reiterated the EU's unwavering support for Georgia's security, sovereignty, and territorial integrity. He highlighted the long-standing commitment to peaceful conflict resolution in Georgia.
"My third message, prime minister, is about our unwavering support to Georgia's security, sovereignty and territorial integrity. Our longest-standing commitment to peaceful conflict resolution in Georgia is today as strong as ever, in light of the Russian aggression against Ukraine.
We have been, and we will continue also stand by Georgia. And these are not just words, we are backing these with concrete actions and investments. We have an active, special representative for this region and a dedicated European Union Monitoring Mission that has been in the country for the last 15 years. For 15 years, every day, the Mission has played an important role in ensuring stability and reducing tensions in the region. We discussed the situation around the breakaway regions. I will personally, later go to that to see the situation on the ground and visit this mission," High Representative noted.
Borrell praised Georgia's contributions to international military missions. He assured Georgia of the EU's support on its European path.
"Finally. I am also glad about our increasingly strong security and defence cooperation. You have made remarkable contributions to have military missions around the world. We are on your side and helping Georgia strengthen its defence forces through the European peace facility; we have provided 62 million of funding for non-lethal equipment, which is vital for rapid response in crisis situations and for saving lives. This has already reached Georgia in April and more assistance in the way.
Prime minister, and also citizens of Georgia, I am concluding by saying that Georgia can count on European Union support. We want to see Georgia succeeding on its European path. We want you to succeed and for that, we will provide all the support that we can," he added.