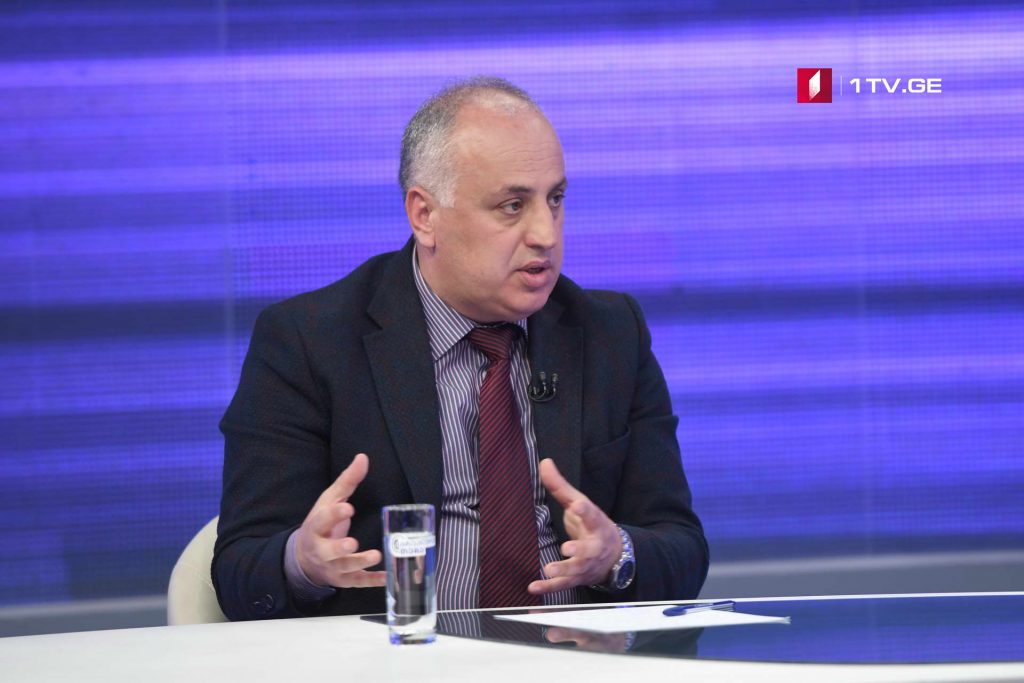 GD's former MP Khundadze tells Ned Price US Embassy should work for all Georgians, not just radical opposition
The US Embassy in Georgia should work for all citizens of Georgia, not just the radical opposition and their own non-governmental organizations, independent MP Dimitri Khundadze said in a message to US State Department Spokesperson Ned Price.
Recently resigned from the ruling Georgian Dream, Khundadze emphasizes it is a "selective diplomacy." In his lengthy Facebook post, Dimitri Khundadze questions whether new geopolitics changes the territorial borders and global political ideology, seeking where is Georgia's place or what the cost?
"If we have to pay this price through war and thus bring Georgia to the altar, then this reality is unacceptable for us," Khundadze stressed and added that Georgia would never unfold a war against "Abkhazians and Ossetian brothers".
The peaceful restoration of Georgia's territorial integrity is exactly where international partners can assist Georgia, he continued, saying NATO and the EU should have been a guarantor.
"Many year-long expectations have, to some extent, caused disappointment among the Georgian people towards Western policies, which is dangerous not only for our country but also for the West itself. The unfair decision made by the European Council regarding the EU candidate status angered the Georgian people," Khundadze said.
The MP believes western policies are a sequence of European and American policies, and people assumed this unfair decision as a joint accord.
"The West made a gross political mistake by denying Georgia the EU candidate status, which added to the country's polarization and led to a sense of injustice. The fact is, this decision only favours Russia," Khundadze went on.
He further pointed out that US Ambassador to Georgia Kelly Degnan did not distance herself from the ruling team's political opponents, who have been advocating the war. Khundadze suggested the Ambassador never slammed war advocates, and now people in Georgia perceive the US Embassy as a political player.
"Is there any justification for such politicization of the diplomatic corps? As far as we know, the US Embassy should function for all citizens of Georgia, not only for the radical opposition and their personal non-governmental organizations. This is a "selective diplomacy", not to mention "selective politics" disguised as diplomacy," Khundadze stated.
Dimitri Khundadze also slammed Ned Price for speaking about "disinformation and personal attacks on Ambassador Degnan or her team." He said these remarks would have been fair if they followed "aggressive, dirty and offensive language" by Mtavari TV Head Nika Gvaramia against Kelly Degnan.
"Madam Degnan called the facts we provided lies and stated that she did not even read the letter to the end. I don't think the United States would tolerate such an attitude by any foreign ambassador to the questions asked by a congressman. What is unacceptable to you is unacceptable to us. What is anti-democratic for the American people is also anti-democratic for the Georgian people," Khundadze said.
The former member of GD also praised the founder of the ruling party Bidzina Ivanishvili, saying, "the issue of Bidzina Ivanishvili will become a measure of Western values in Georgia!"
"We do not want to stand at NATO's permanently closed doors, nor do we want chronic promises from the European Council regarding membership. Georgia and the Georgian people deserve real and tangible results for its western aspirations.
Foreign countries should refrain from rudely interfering in our internal affairs, reviewing court rulings in embassies, encouraging artificial changes in the elected government, and insulting the greatest benefactor of the Georgian people by imposing sanctions," Khundadze concluded.