Austrian Press Agency publishes article: Small Country, Big Effort: How Georgia Became Exemplary in the Fight Against COVID-19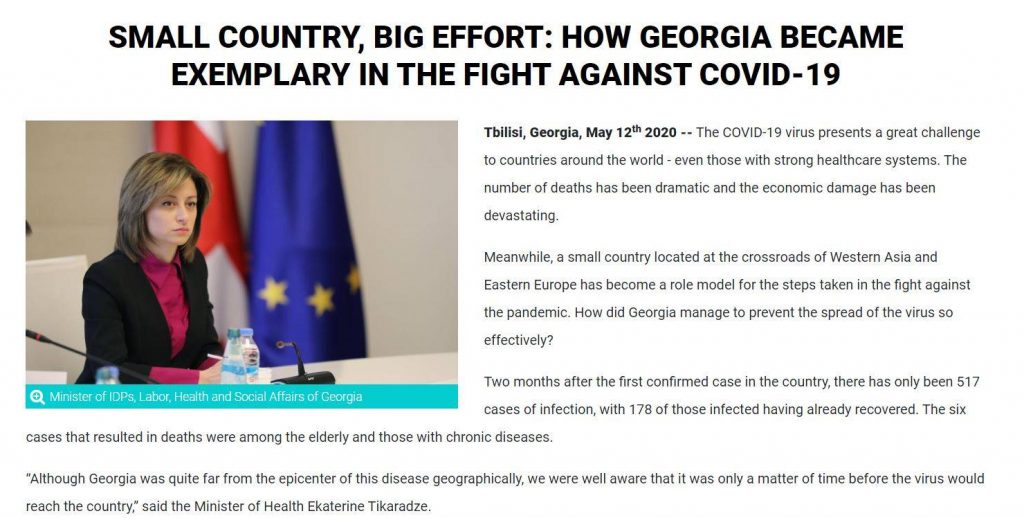 Small Country, Big Effort: How Georgia Became Exemplary in the Fight Against COVID-19, – the Austrian Press Agency (APA) publishes an article under this title. The article, based on the interview of the Minister of Health, Ekaterine Tikaradze, discusses the steps taken by the country to stop the pandemic.
The article emphasizes that Georgia not only took into account the recommendations of the World Health Organization in a timely manner, but also developed its own strategy to fight the virus, which was important to reduce the spread of the virus throughout the country.
"From the beginning of January, the Ministry of Internally Displaced Persons from the Occupied Territories, Labor, Health and Social Affairs of Georgia, took concrete steps to mitigate the threat that the epidemic posed. An information campaign was launched at airports and borders. Upon arrival, passengers received information on how to recognize the symptoms of the virus and where to seek help if they think they are infected. Soon after, thermal screening began at the border. In addition, passengers from high-risk countries were taken directly into quarantine zones for surveillance" – the article reads.
The publication emphasizes that in order to prevent the spread of the virus and to rapidly notify those who might have been in contact with someone who was infected, the Ministry of Health introduced the 'Stop COVID' mobile phone application.
"The COVID-19 virus is not expected to disappear anytime soon. Therefore, to ensure that the health response is properly managed and safe, it is important that each country and its citizens learn to coexist with the virus, until a vaccine can be found and more effective treatments are introduced," noted the Minister of Health of Georgia.
"Georgia's pandemic response has been cited as one of the best and most effective examples in terms of controlling the epidemic. The pandemic has clearly shown that not only are a country's resources important during times of crisis, but also the effective and timely management" – the article reads.