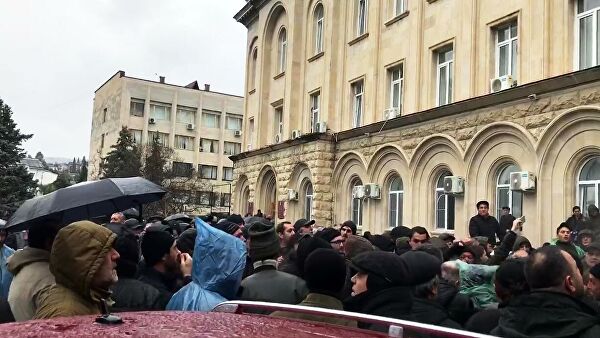 The anti-regime rally in Russian-occupied Abkhazia
About 1,000 opposition supporters are holding the anti-regime rally at the Administration building of the de-facto President Raul Khajimba in Georgia's Russian-occupied Abkhazia region.
Protesters are trying to break into the building. As foreign media reports, there was also a physical confrontation between law enforcement and protesters.
With the help of the soldiers, de facto President Raul Khajimba has managed to leave the building.
A group of protestors took control of the presidential administration in the breakaway region of #Abkhazia. No clarity what's coming next, but for the moment this does not seem to lead to a new revolution, or anything similar. At least, not yet. 1/3

Source: Facebook user pic.twitter.com/Pdxg669yiY

— Olesya Vartanyan (@Olesya_vArt) January 9, 2020
The opposition demands to recognise the results of the September 8, 2019 presidential election when Raul Khajimba was re-elected as illegitimate. Raul Khajimba failed to win in the first round. In the second round,  he received 47.39 per cent of the vote, while Alhaz Kvitsinia received 46.17 per cent.
Opposition "presidential candidate" Alkhas Kvitsinia whose lawsuit is being discussed by the Supreme Court of the occupied region says the results are invalid given that per the "constitution", only a candidate that receives 50 per cent of votes + 1 can be considered the winner.