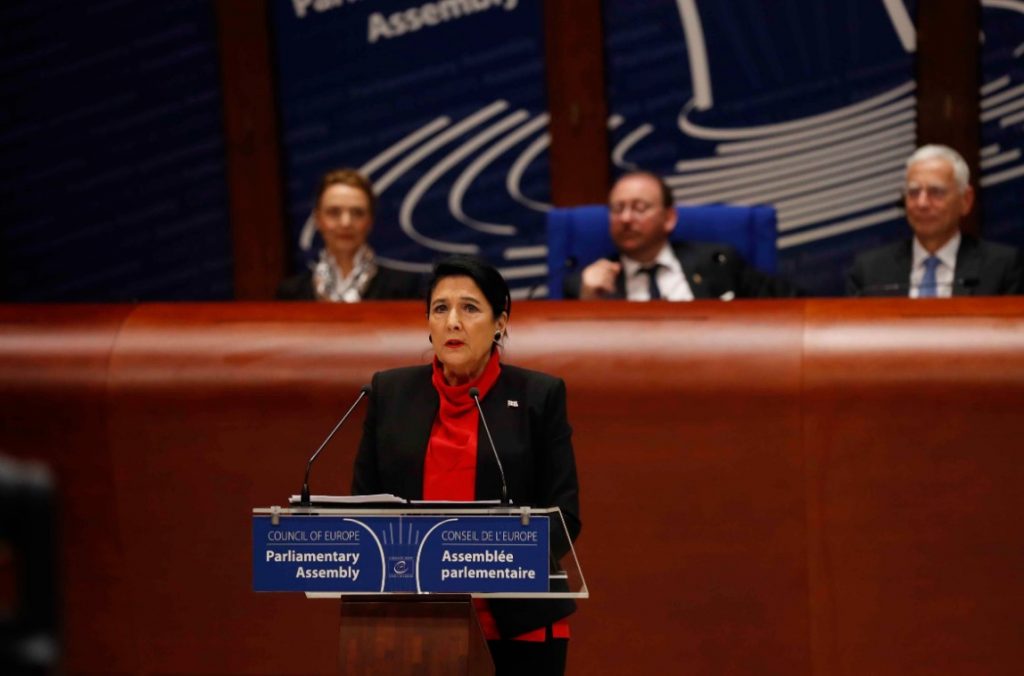 President of Georgia – Boundary line of the occupied territories represents a tragedy
President of Georgia Salome Zurabishvili talked about Russian occupation and human rights situation in the occupied territories of Georgia in a speech delivered at the Parliamentary Assembly of the Council of Europe (PACE) in Strasbourg.
President said that the 20% of Georgian territory remained occupied, the administrative boundary line was being shifted continuously and the crossing points were often closed for mundane reasons obstructing freedom of movement for the population living in Abkhazia and Tskhinvali regions.
"All our citizens there suffer human rights deprivation, lack of adequate health services, the prohibition of education in native Georgian language as well as restrictions to teachings in Abkhazian or Ossetian languages through the policy of Russification. But also intensified ethnically-targeted violations against what is now a very small Georgian minority in the enclave of Gali.
Citizens living on our side of the ABL in villages that have been partitioned are kidnapped, ransomed, in some cases tortured or even killed for not having respected a border that has no legal existence and that from one day to the other suddenly appears in their backyard or goes through the village and its traditional graveyards," Zurabishvili said.
According to President, the European Union Monitoring Mission, while being mandated to operate throughout the whole territory of Georgia, was not in fact allowed in the occupied regions by the Russian Federation that was a violation of the 2008 Ceasefire Agreement.
"We call upon all our partners to restore the Georgian issue in all their bilateral or multilateral talks with Russia, reminding it of its commitments under the ceasefire agreement, in particular, de-escalation on the ABL, allowing the EUMM to monitor the whole region aiming at de-occupation and reunification of territories, but moreover of the people.
Beyond the tragedy that the boundary line of the occupied territories represents and a moving division line that places Russian forces at some 30 kilometres from our capital city, or the multiplication of military bases on both occupied territories, the issue is that ordinary citizens deserve a better life," Zurabishvili said.
President talked about Georgia's peace initiative "A Step to a Better Future." She said that the initiative was a very vivid demonstration of Georgia's commitment, aiming at improving the humanitarian and socio-economic conditions of people residing in occupied Abkhazia and Tskhinvali regions.
"We need the engagement of all and we are ready to do our part, in order to find the path to a solution that will allow our country to regain unity and to ensure freedom all over its territory," President of Georgia stated.