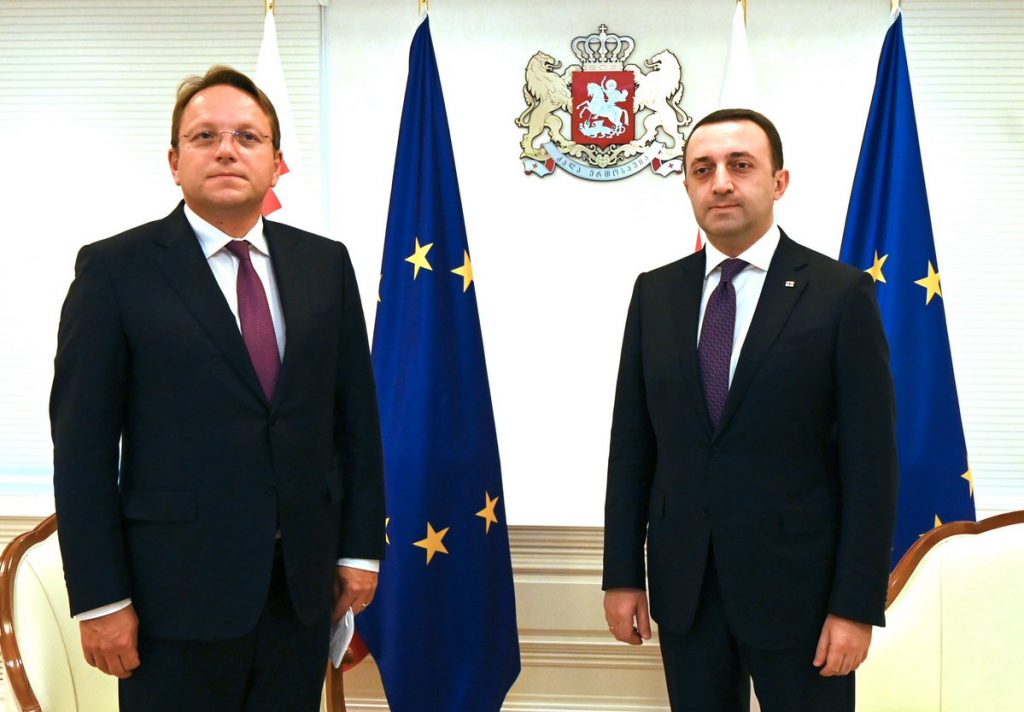 PM Garibashvili pledges 80% of Georgians support Euroatlantic aspiration
Georgian Prime Minister Irakli Garibashvili praised EU Commissioner for Neighbourhood and Enlargement Oliver Varhelyi for his efforts on Georgia's Europeanization and democracy path.
PM believes Varhelyi is Georgia's strong supporter. This visit "is very clear evidence of support demonstrated to our country."
"I want to thank him for every effort made for making our country European on the way of our democratization. Of course, we had a very productive meeting today. We reviewed a wide spectrum of topics that exist in the agenda of our country and EU," PM underscored after a meeting with the EU Commissioner.
Happy to welcome @OliverVarhelyi to #Georgia! Discussed the next steps of the 🇪🇺-🇬🇪 relations, Black Sea region & the upcoming EaP summit. EU to allocate 3.9 billion EUR to 🇬🇪 is yet another proof of 🇪🇺 support toward #Georgia & ever so growing strategic partnership.

— Irakli Garibashvili (@GharibashviliGe) July 7, 2021
PM highlighted the Free trade Agreement (FTA), saying that it allows local entrepreneurs to export Georgian products to the EU market smoothly. Garibashvili pledges the government will further work on export enhancement.
"We reviewed a wide spectrum of topics that exist in the agenda of our country and EU. You may well be aware that the main document, which defines the European transformation and democratization of our country, is the one we signed seven years ago. It is the EU-Georgia Association Agreement (AA), along with the Free Trade Agreement (FTA). It has given rise to specific, tangible results to our country and – what is most important – to our people. I wish to hereby remind our population about a specific, tangible achievement, which is a visa-free travel arrangement granted to our citizens. Up until 2016-2017 our citizens required a visa to travel to Europe, but it has been some years that our people travel to EU member states without a visa. This primarily means trust, which was declared by the EU to us, our country and predominantly to our people, because our people and we meet the standards that were and are required by the EU. This is one. Besides, our Government did its best to deliver on our promises, which has led to this fabulous achievement," PM noted.
The parties also reviewed regional developments, including the Nagorno-Karabakh conflict and its settlement.
"I shared information with the EU Commissioned on my recent engagement in the process with our neighboring nations – our friendly nations – Azerbaijan and Armenia. You may well be aware that with our engagement 15 servicemen were released and Armenia handed mine maps to Azerbaijan, which was a significant precedent that we made happen together. Georgia acted as a mediator in the conflict resolution. Of course, we discussed the occupation as well, which is a huge burden and a heavy challenge for our citizens. Russia should honor its commitments and withdraw its troops from our territories," PM stated.
PM vowed Georgia follows the Euro-Atlantic course, which is irreversible, enshrined in the Constitution.
"I once again wish to confirm that our country – the absolute majority of our population – almost 80% supports the European integration of our country. Mr. Commissioner, the decision made by our Government and our team was to amend the Constitution of Georgia and define the foreign policy of our country in it. We all agreed that foreign policy of our country is the Euro-Atlantic integration, which is irreversible, which will not be revisited or altered. Of course, we understand it well that this process in a country, which is still a young democracy, tends to face a number of permanent, constant challenges. However, it does not scare us at all, because we understand it well and strongly believe that we will be successful on this path. We are confident that we will become a fully-fledged member of the EU one day," Garibashvili underscored.
PM thanked Varhelyi for the EUR 3.9 billion aid package.
"Effective Monday, the government will actively work on the projects you have listed, including connection, transport, energy, small and medium-sized enterprises, agricultural development and revival of our country's economy," Garibashvili vowed.
PM also decried the violence against journalists during today's press briefing, pledging the government and the church is not interested in violence, but "it may be profitable for unfriendly countries or destructive opposition."
EU Commissioner for Neighbourhood and Enlargement Oliver Varhelyi arrived today in Tbilisi as a part of his South Caucasus tour.