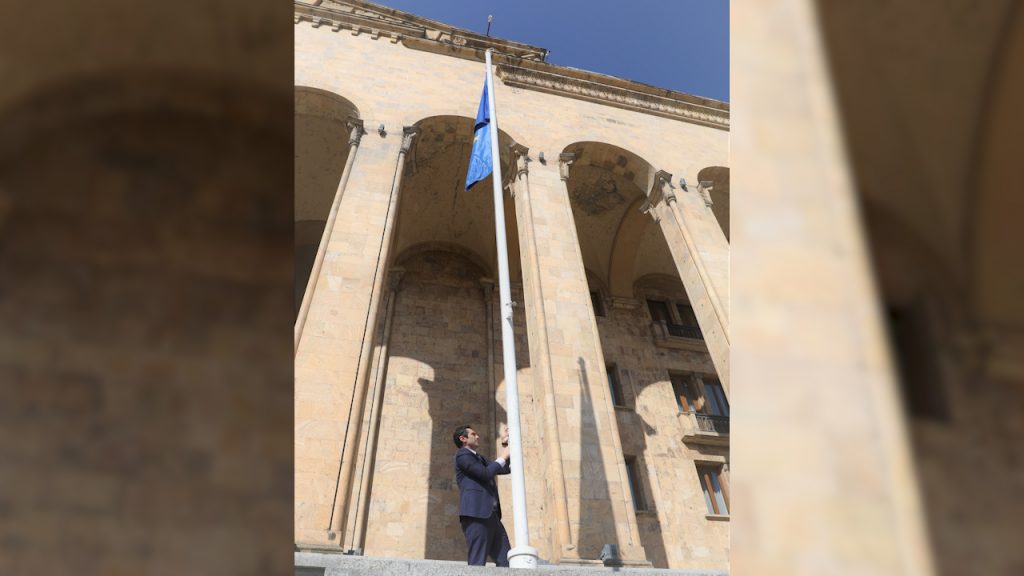 Parliament Speaker decries EU flag removal from Parliament building
Integration into European and Euro-Atlantic structures is Georgian people's historic choice, stressed Parliament Speaker Kakha Kuchava, pledging the country to move forward on this path.
The Speaker deemed the removal of the EU flag intolerable. Kuchava posted photos on Facebook depicting him hanging the EU flag back.
"Our strategic partners are constantly guarding Georgia's sovereignty and territorial integrity. Their contribution to Georgia's development is invaluable. We must remember that we all have one homeland, whose history, traditions and religion have nothing to do with violence," Kuchava underscored.
;
Anti-Tbilisi Pride members took down and burnt the European Union flag outside the Georgian Parliament minutes after the LGBT+ community solidarity rally ended. Counter-demonstrators tried to pierce the so-called silent rally, but the police stopped them to avoid skirmishes.
The solidarity rally came after anti-Tbilisi Pride members amassed at Parliament to disrupt the March of Dignity, the final event of Tbilisi Pride Week on July 5. The tension mounted as they stormed Pride and Shame movement offices. Interior Ministry urged Pride organizers to cancel the event due to security risks.
Tbilisi Pride later axed the march as " the authorities did not ensure the security of the community."