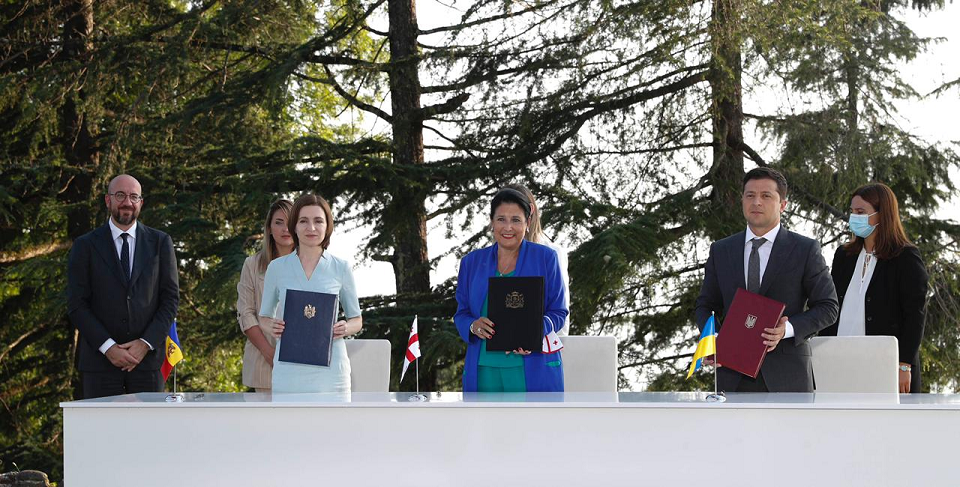 Georgia, Ukraine, Moldova sign Batumi Summit Declaration on EU Integration
In the presence of European Council President Charles Michel, Presidents of Georgia, Ukraine and Moldova – Salome Zourabichvili, Volodymyr Zelensky, and Maia Sandu, signed a trilateral cooperation declaration on European integration.
The Declaration by the Heads of State of Association Trio – Georgia, Republic of Moldova and Ukraine pic.twitter.com/PndWx02gUt

— Orbeliani Presidential Palace (@OrbelianiPalace) July 19, 2021
Three nations pledge to work together for a peaceful, democratic and prosperous European future.
Presidents reaffirm unwavering commitment to advance further the process of integration into the European Union. This is to be done through comprehensive reforms, strengthen democratic institutions and progressively approximate legislation in the relevant sectors with key elements of the EU acquis.
The three signatories vow to work to identify concrete priorities in the areas of common interest, enhance political dialogue and advance economic and sectoral integration with the EU. The particular areas of cooperation are transport, energy, digital transformation, green economy, justice and home affairs, strategic communications and health care.
"We will work closely to increase our resilience to better respond to the challenges to regional and European security. We are committed to cooperate with the European Union on common security and defence policy (CSDP), including countering hybrid threats, strengthening cyber resilience, fighting misinformation, developing cooperation platforms with the EU's relevant agencies and services. We stay committed to participate in CSDP missions and operations and bring our contribution to the EU's efforts towards peace and stability in the world," the declaration reads.
Georgian President claims those three countries are ready and determined to fight for the European future," to avoid threats of polarization inside and provocations outside."
"Our response is clear. It is European response, neither adventure nor resignation or stagnation but to advance steadily in the right direction, in the direction of Europe and that is called resilience," Salome Zourabichvili said.
"Backed by the strong will of our peoples to become a part of the European family, we stand united in our determination to work towards achieving acknowledgement of the European perspective for 🇬🇪, 🇲🇩 and 🇺🇦 opening the way for future membership of our three states in the EU." pic.twitter.com/CsgtMqbdC3

— Salome Zourabichvili (@Zourabichvili_S) July 19, 2021
Moldovan President believes "the Batumi Summit Declaration outlines our commitments in those areas where we want to achieve more, and reaffirms our unifying desire to join the Union on a merit-based approach."
"We are well aware that the first and the most difficult steps lie at home, in this regard. Strengthening democratic institutions, consolidating the rule of law, ensuring the independence and accountability of the justice system, strengthening anti-corruption institutions, and restoring the trust of citizens in the state are key to unlocking our unexplored potential with the EU, but also with the rest of the world. These reforms are a must that cannot be simply bypassed or delayed. In this regard, we welcome the EU's more-for-more principle and the principle of conditionality," Maia Sandu stated.
Ukrainian President said the Associated Trio now unites efforts to achieve EU integration.
"This destination is attainable. We can be sure because we have the presence of Charles Michel," Volodymyr Zelensky noted.
European Council President Charles Michel added there are priorities to address at the Eastern Partnership Summit in December, stressing that preparation for the next summit is paramount to yield "concrete, tangible results for the benefits of all our citizens."
EC President highlighted mobilizing financial support, be innovative when working with the European Investment Bank (EIB) and ensuring the SMEs can grow.
"We will try to do our best in order to maintain, to strengthen this high level of dialogue and to make sure that together we will be able to deliver in the benefits of all our citizens," he stated.
We have priorities to address at the #EasternPartnership Summit in December.

Let's work with @EIB to support infrastructure projects and help #SMEs to grow.#Connectivity is key to strengthen cooperation in all areas.

Reforms are needed for the benefit of citizens. pic.twitter.com/eHoeC6Xob9

— Charles Michel (@eucopresident) July 19, 2021
The declaration was signed symbolically in the ancient Petra fortress, located on the Black Sea coast near Batumi, Georgia.
The Leaders' Meeting at Petra: 🇪🇺🇬🇪🇲🇩🇺🇦 pic.twitter.com/xbqlrybyQ0

— Orbeliani Presidential Palace (@OrbelianiPalace) July 19, 2021