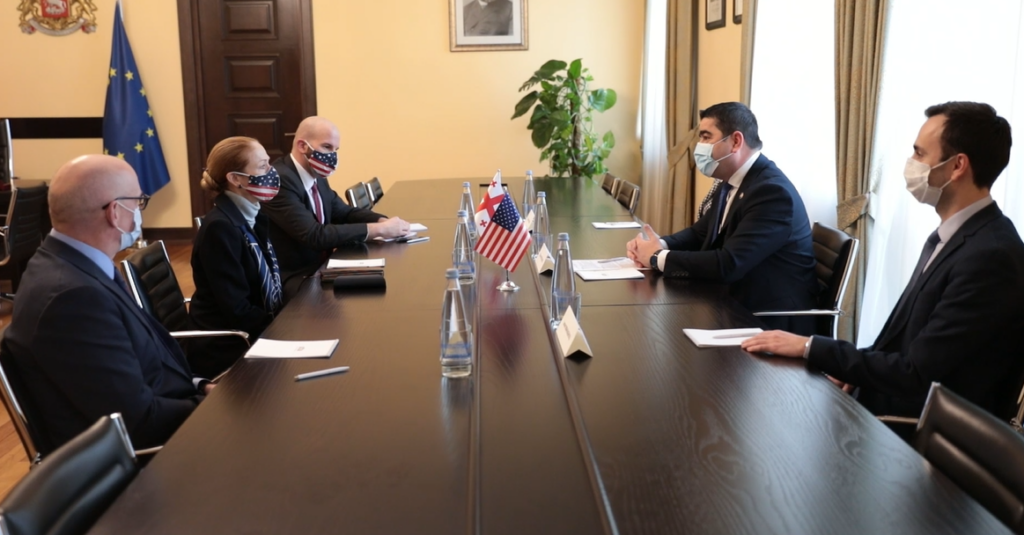 US Ambassador meets Parliament Speaker, GD Chair
US Ambassador to Georgia, Kelly Degnan met Georgian Parliament Speaker, Shalva Papuashvili and Chairman of the ruling Georgian Dream (GD) party, Irakli Kobakhidze.
Degnan said she had the opportunity to hear the new priorities for the upcoming legislative session.
"It was also an opportunity to talk with the chairman of the ruling party and hear their priorities for the coming session. We were very glad to hear that at the top of the agenda is further judicial reforms, harmonizing Georgia's law with the European Union as part of the fulfilling the Association Agenda; and also, the Summit for Democracy pledges that Georgia made in connection with President Biden's Summit for Democracies. ," Degnan said.
The meeting also discussed the situation in Ukraine, tensions, security threats that Russia created in the region and Russia's aggressive attempt to destabilize European security with threat of force.
"Obviously, this is a pivotal moment, a very important moment for Georgia and for the region, and for all of us in upholding the fundamental principles — international principles that have kept Europe peaceful and prosperous for the past 30 years plus," Kelly Degnan said.