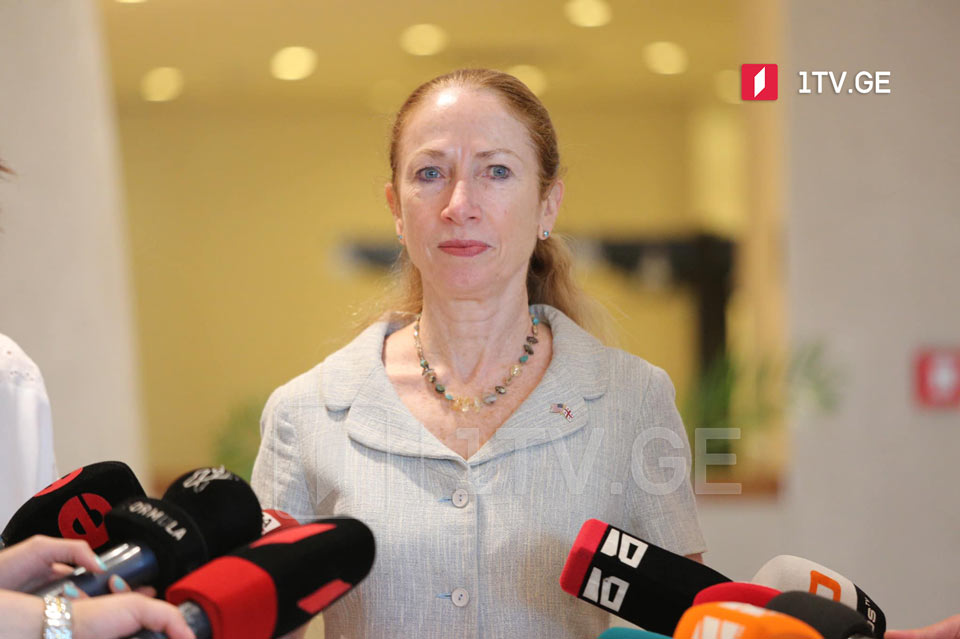 US Ambassador hopes judicial reforms to be implemented soon
US Ambassador to Georgia Kelly Degnan said that the meeting of the Judicial Coordination Council is a good example of working together to improve the Georgian judicial system.
"Today's event, I think, is a good example of the continued work that's happening here in Georgia to improve the judicial system, to build on the reforms that have taken place over the last 15-20 years. This is an example of the whole judicial system coming together to exchange ideas, to share best practices. This is the judges, the prosecutors, and the defence attorneys coming together tonight to discuss how to make sure that the citizens of Georgia received timely justice by having their hearings not drag out for a long time. The Georgian Constitution, the American Constitution going all the way back to the Magna Carta in the year 1215, all guarantee timely justice as part of the right to a fair trial," the Ambassador said.
According to Kelly Degnan, the United States is proud of helping Georgia develop its judicial system so that Georgian citizens have the right to a timely and fair trial.
"The United States Embassy is very pleased to be supporting this effort this evening by hosting this penitentiary event to talk about the process of improving the timeliness and the administration of justice in Georgia. This is one session of a year-long process with the judges, prosecutors, and defence attorneys coming together to talk about how to strengthen Georgia's judicial system. We, of course, support this effort.
This is something that the United States has been very proud to be part of helping Georgia develop its judicial system over many, many years. What we have advocated is to continue that reform work. There is a clear roadmap that has already been discussed and negotiated by Georgia's leaders and here, by the members of the judiciary. It's based on recommendations from the Venice commission, from ODIHR, from international and domestic legal experts.
It's important, I think, to note that Parliament asked the Venice Commission and ODIHR and international experts for these recommendations; these were provided at parliament's request. So it's quite clear in many instances what further reforms are needed as part of a continuing process to strengthen Georgia's judicial system, to ensure that the citizens of Georgia can have confidence in their judicial system and can have a timely professional, impartial administration of justice. That's what we're all striving here for, and I sincerely hope that reforms will be underway very soon," Kelly Degnan said.