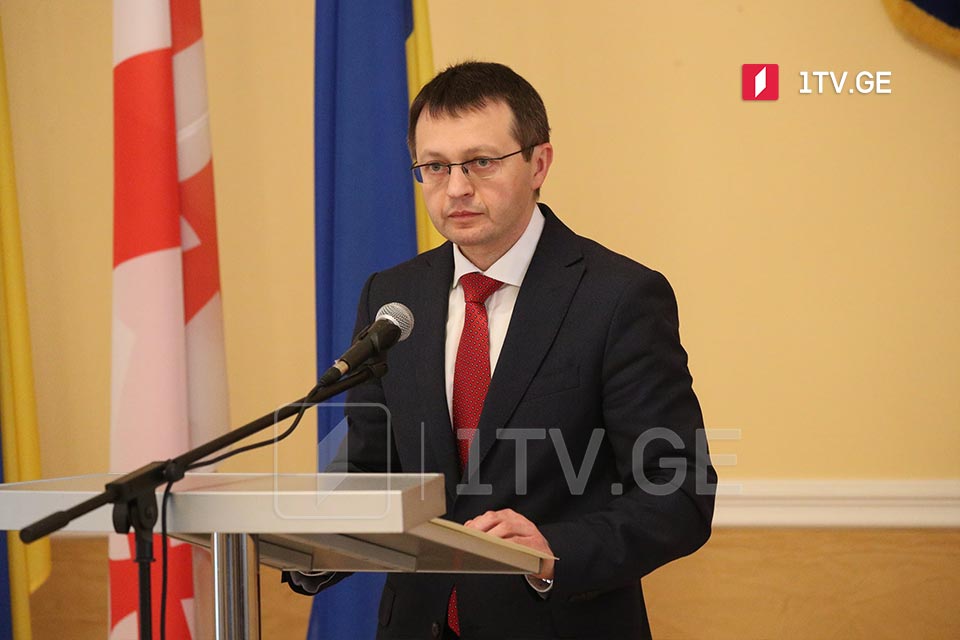 Ukraine grateful to Georgian President for support, Ukrainian Embassy says
Ukraine is grateful to Georgian President Salome Zourabichvili for the support and solidarity of Ukraine and the Ukrainian people, said Andrei Kasanov, Ukraine's Chargé d'Affaires, at a news briefing.
"We are closely following the speeches in the parliament, the reactions in the political environment and public circles, and we are constantly informing Kyiv about it," Kasanov said.
Speaking about the return of the Ukrainian Ambassador to Georgia Igor Dolgov, Kasanov said the Georgian Foreign Ministry would be notified immediately after the Ambassador resumes his office, stressing consultations could be held in different formats.
"As you know, Ukraine has been in a war for three weeks. Ukrainian Embassy continues to work in Georgia. Under the war conditions, diplomacy is far from being classic. I cannot disclose the peculiarities of diplomatic activities, including the affairs of an ambassador during the war," Kasanov told journalists.
Andrei Kasanov expressed gratitude to all neighbouring countries, which opened the door to Ukrainian citizens and provided them with accommodation, food and medicines. He said Georgia helped send over 3 000 tons of humanitarian aid to Ukraine. The humanitarian relief includes medicines, clothes, baby food and items of primary consumption.
"We hope that the Georgian government will make the needed decisions. We also hope that the government will make the vital decisions for Ukrainian citizens who are forcibly present on the territory of Georgia due to the Ukrainian-Russian war," said Andrei Kasanov.
Based on unverified data, approximately 4 100 Ukrainian citizens have arrived in Georgia since the outbreak of the Russia-Ukraine war, Andrei Kasanov said.
According to Kasanov, the majority of Ukrainian citizens fled from the aggressor country Russia. The number of refugees, mainly women and children, exceeded 2,5 million.
Georgian Public Broadcaster (GPB) reported about the return of Ukrainian Ambassador Igor Dolgov to Georgia. The GPB's First Channel camera filmed him entering the Embassy building.
On March 14, Georgian President Salome Zourabichvili urged her Ukrainian colleague Volodymyr Zelensky to return Igor Dolgov, Ukraine's Ambassador to Georgia, "so that the connection between the two nations strengthens, becomes closer and more unwavering amid challenging times."
Ukrainian President Volodymyr Zelensky recalled Ukrainian Ambassador to Georgia Igor Dolgov for consultations on March 1.