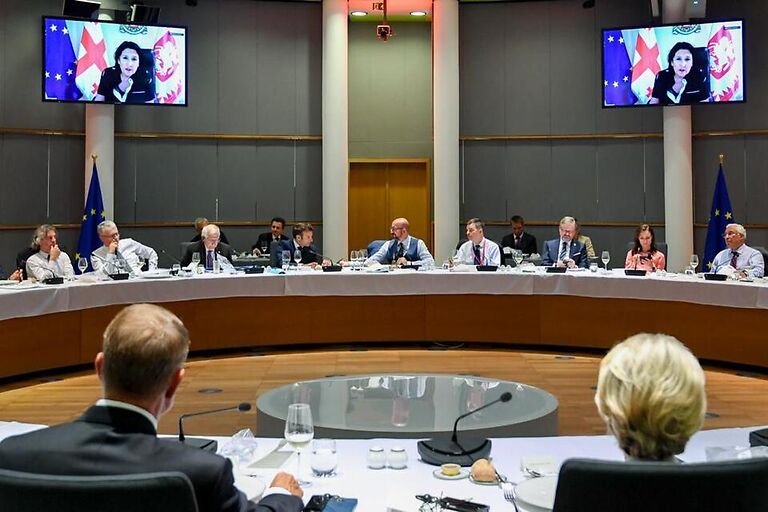 President believes government will take all necessary measures to get EU candidate status
Georgian President Salome Zourabichvili addressed the European Council on June 23 and expressed confidence that the government would take all necessary measures to get EU candidate status. According to her, the EUCO's decision to deny Georgia EU candidate status, unlike Ukraine and Moldova, may disappoint the Georgian people. However, the President said she and the Georgian people believe the government will take all the necessary steps by the end of this year.
"First of all, I want to convey from the people of Georgia that what has happened today – maybe there is some disappointment not to be among the three of the Trio. But at the same time, I think we realize that today something happened that Georgia had been expecting for many years, since its independence certainly, in 1991, but maybe much more than that in different manners, and which is to join the European family and to be allowed this European perspective.
I remember the different steps that Georgia passed on this European path and each time, whether it was the Neighborhood Initiative or the Eastern Partnership or the Association Agreement, each time, it was always repeated that it was everything but membership, that the path was not towards membership, that it was a parallel path. Today we see that our path now is clearly toward membership and toward getting back into the European family and that is an incredibly historic step.
At the same time, I understand, the Georgian population understands, and I think we all, government included, have to understand that the chance that we are given is also a challenge. The challenge is to be able, in the coming six months, to take seriously the path of reforms that we have had until now, though maybe some steps were not taken in time, some steps were taken slowly.
All of that has to be rectified. We have until the end of the year; we have this promise to receive the status of candidate by the end of the year if we do what is expected from us.
I think the Georgian population has shown two days ago on the streets that it is very ready. Myself, in my capacity as President, not only am ready but consider that I have to do the monitoring task of what will be our next steps. So, you can count on me, you can count on the Georgian population and I want to believe that we can count that the government will take all the necessary steps. There is a responsibility in front of the Georgian people, in front of our history and in front of our children so I am sure we will take that challenge very seriously. And we will work on that.
We know it will be quite intensive work but I also know that I can count on your support, Mr. President, and on the support of those that are around the table because you are giving us that chance.
And I do not want to finish without congratulating Ukraine and Moldova, and especially Ukraine because Ukraine has been leading that fight and if it hadn't been for this extraordinary unity of the Ukrainian people in front of the aggression, this major historic step probably would not have been taken. So, I think that gratitude is something that we have to start with. And then unity, unity among the three to work on those reforms that each of us has to achieve and unity among our people – depolarization, which I've been striving for and on which here you're giving me a great incentive to continue on that path to depolarization.
So, thank you again and I want to congratulate you all because you're taking today a historic step so that Europe is united in its larger configuration, where the Black Sea has to return to its function as a bridge as it was in Antique times. And clearly security, cooperation, stability across the Black Sea needs on both sides of the Black Sea countries that are democratic and European and that's a path I want to see for my country, that's the path I want to see for Europe," President Zourabichvili said.
The European Council on June 23 recognized Georgia's European perspective, while Ukraine and Moldova received the EU candidate status. European Council President, Charles Michel said Georgia would be granted candidate status once the "outstanding priorities are addressed."