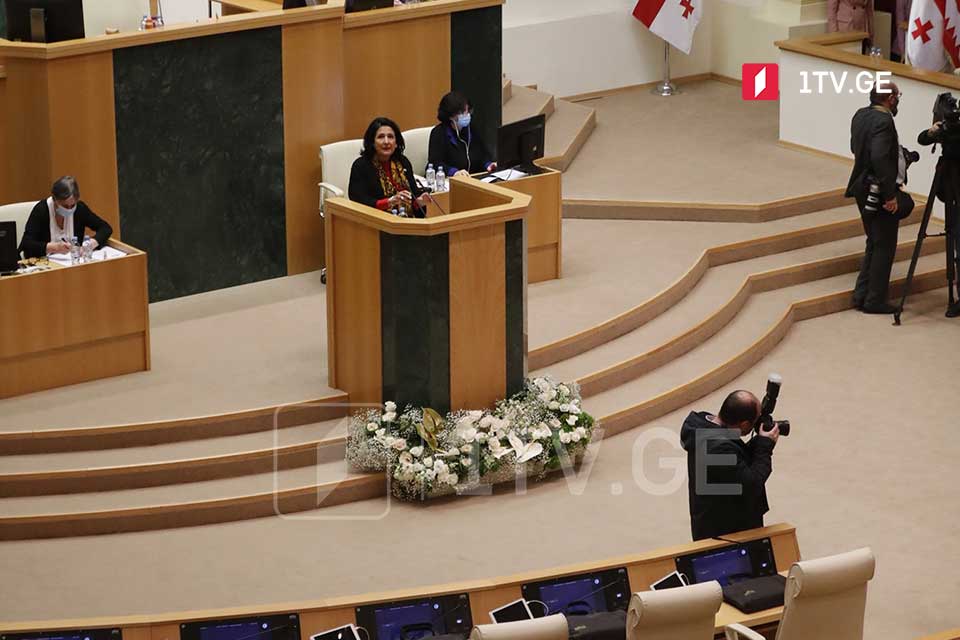 Georgian President: Renouncing multiparty parliament to be complete rejection of democracy
A state is strong when it has strong institutions, Salome Zourabichvili said opening the first session of the parliament elected on October 31 parliamentary elections.
Today's attack on all institutions, which is the axis of our identity, democracy, security, stability, and the cornerstone of the country's future, is destructive for the state, the Georgian President declared.
"The Patriarch, who is the source of our spiritual energy and national courage; our church, which has preserved the identity and unity of the Georgian nation for centuries and paved the way for independence, their discrediting serves to shake our spiritual strength!" Salome Zourabichvili addressed the lawmakers.
She elaborated that the division of troops on political grounds opposes the strategic goals of the country, namely the Euro-Atlantic integration. Sowing distrust between the army and the Supreme Commander-in-Chief through a purposeful campaign, distorted, out-of-context words serves to demoralize the army, Zourachvili added.
We must understand how devastating it is for a country to insult a police officer, to put moral pressure on him, the President said having added that the police protect the security, stability, and peace of citizens in the country.
The parliament is the main branch of government in a parliamentary republic, Salome Zourabichvili elaborated. Insulting this institution either by chanting Gavrilov or by chanting the Soviet anthem or by hand-to-hand fighting within the parliament is an insult to Georgian history.
People look at us and says 'We are tired'! We must listen to people inside and outside the parliament, the President said.
We are 'tired' to run in circles, attempts to manage political processes from the street, threatening and provoking destabilization instead of dialogue, Salome Zurabishvili said at the first sitting of the tenth convocation parliament.
The President of Georgia believes it is a complete rejection of democracy when you demand new elections and refuse a multiparty parliament because of the failure to win and without real evidence of fraud.