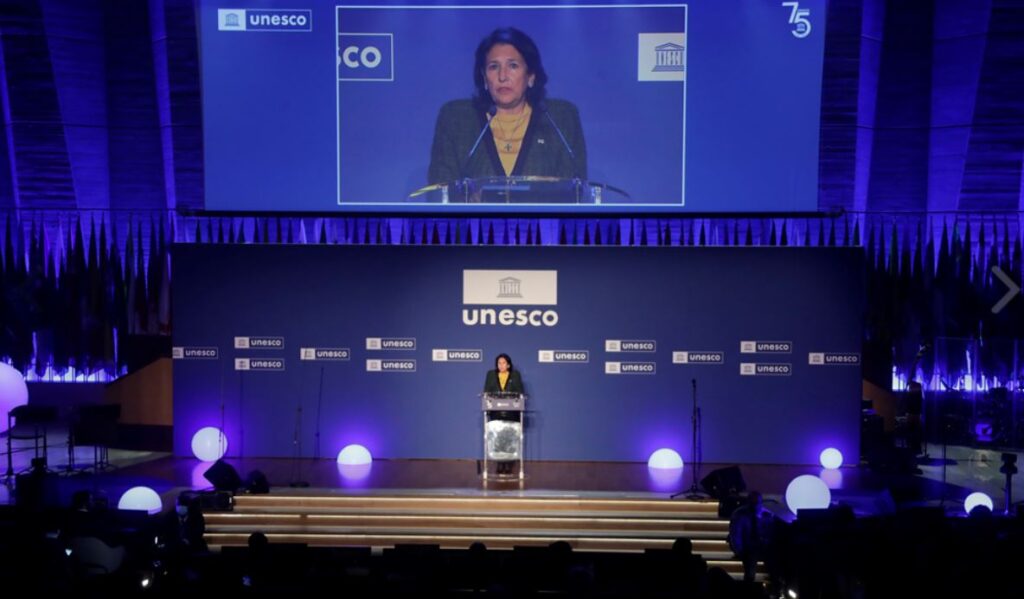 Georgian President asks UNESCO to establish Caucasian Languages International Day
Georgian President Salome Zourabichvili, being on a working visit in France, participated in a forum dedicated to the 75th jubilee of the UNSECO. World leaders convened at the forum to discuss the organization's role in coping with modern challenges of the world.
Salome Zourabichvili said the cultural heritage was the target of aggression that aimed to erase history and identity. The conflicts at different spots of the planet, Afghanistan, Syria and Georgia, destructed cultural heritage monuments. She said that churches were ruining on the Russian occupied Abkhazia and South Ossetia regions. The occupied regimes prohibited learning in Georgian language.
"Hate speech, which is a cancer of all societies, attacks education and intellect and forbids understanding each other. This is what divides us and deepens polarization. This hate speech is accompanied by false and fake information that social networks disseminate," Georgian President said.
Salome Zourabichvili urged UNESCO to unite against hate speech to preserve the languages, which help communication and understanding between peoples.
She focused on the Caucasian language group and called on UNESCO to establish Caucasian Languages International Day. She stressed that these languages, except for Georgian, were at the threat of disappearance. "We should save these languages and prohibit hate speech," Salome Zourabichvili claimed.