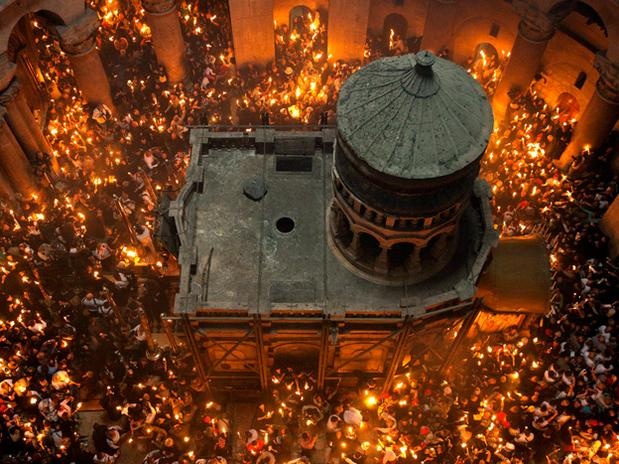 Christian Orthodox World witnesses miracle of holy fire descending at Savior's tomb
The Orthodox world witnessed the miracle of the Holy Fire's descending at Saviour's tomb in Jerusalem. The Holy Fire came down at 15:16 Tbilisi time.
Pilgrims arrived in Jerusalem from different countries, including Georgia to witness the miracle. The holy fire will be brought to Tbilisi late tonight. It will be distributed to all churches and the believers will then be able to take it home.
Orthodox tradition holds that the Holy Fire is a miracle that happens annually on the day preceding Orthodox Easter, in which a blue light emanates within Jesus Christ's tomb (usually rising from the marble slab covering the stone bed believed to be that upon which Jesus' body was placed for burial) now in the Holy Sepulchre, which eventually forms a column containing a form of fire, from which candles are lit, which are then used to light the candles of the clergy and pilgrims in attendance.
The fire is also said to spontaneously light other lamps and candles around the church. Pilgrims and clergy claim that the Holy Fire does not burn them.