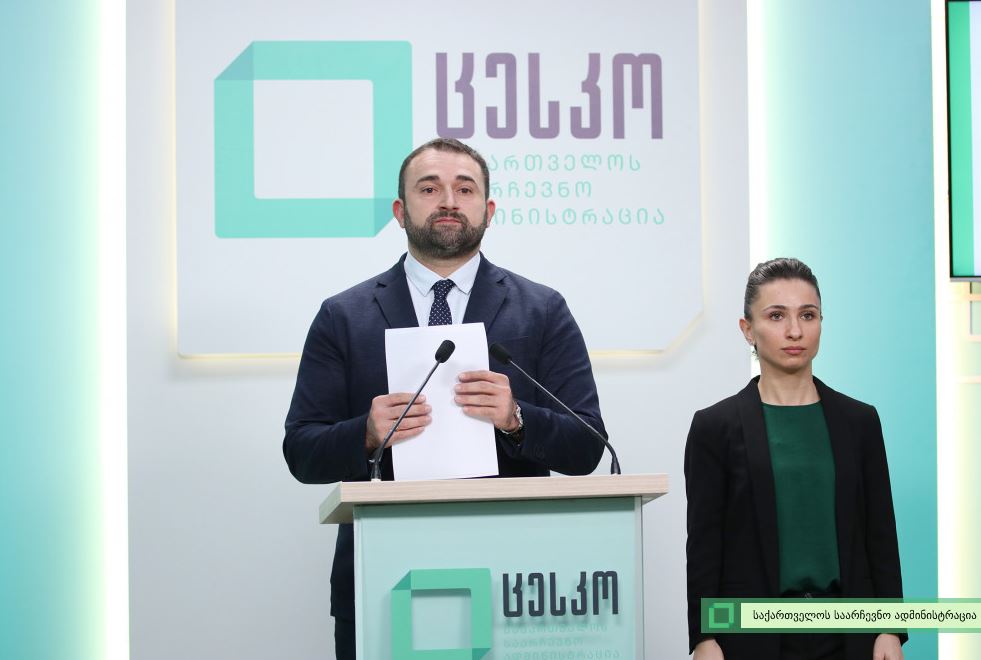 CEC Chairperson presents preliminary results of By/Extraordinary Elections
The CEC Chairperson Giorgi Kalandarishvili on Sunday presented preliminary results of the October 1st by/extraordinary elections.
Kalandarishvili said a total of 43,330 voters participated in the elections. The highest turnout was observed in Gurjaani, with 35.24% of voters casting their ballots at the polling stations.
He presented a preliminary election results report printed from the vote-counting devices of 103 election precincts:
The preliminary results for the Parliamentary By-elections:
№ 34 Mamuka Tuskadze (For Social Justice) 1,344 votes
№ 41 Giorgi Sosiashvili (Georgian Dream – Democratic Georgia) 19,032 votes
Preliminary election results for the Mayoral Extraordinary Elections of Gurjaani:
№ 41 Giorgi Machavariani (Georgian Dream – Democratic Georgia) 14,450 votes
In his remarks, Kalandarishvili stressed that "The election administration has achieved another milestone in modernizing the electoral process."
"Today's elections in Gori, Kaspi, and Gurjaani have reaffirmed the preparedness of the election administration, as well as all other electoral stakeholders, including voters and society, for electronic elections. The eighth successful usage of electronic election equipment on a large-scale, underlined the effectiveness of technology in our electoral process.

Today confirms that the election administration conducted the elections in full compliance with international standards, and the process was actually without any disruptions. Notably, the high level of voter awareness stands out as a direct outcome of the extensive informational and educational campaign that was conducted for this purpose.

Today, we together reaffirmed that the elections are a common cause, and we have established all the necessary conditions and readiness to conduct modernized and well-administered elections in 2024, adhering to international standards," he stated.