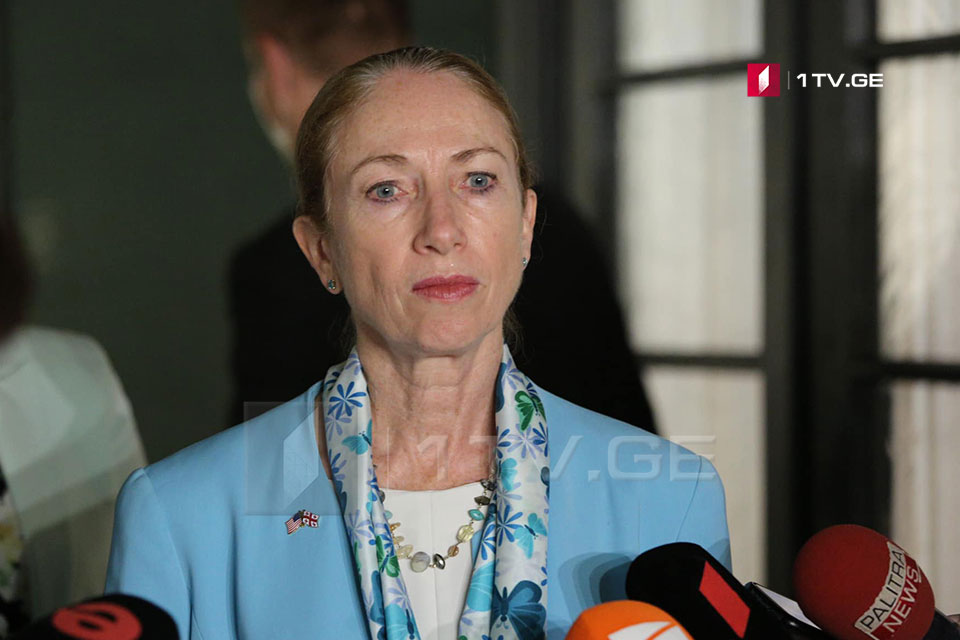 Ambassador Degnan: Georgia complies with int'l sanctions
US Ambassador to Georgia Kelly Degnan said Thursday "no one is asking Georgia's government to come up with bilateral sanctions if they don't want to, if that's not what they've decided they should do. Bilateral sanctions are for Georgia's government to decide."
She continued: "What is expected of every country, my country, and every country that is standing against this Russian aggression is that there will be compliance with the international sanctions regime, and Georgia has always been a good partner in complying with international sanctions, whether against Iran or other countries that are working against the interests of countries like Georgia and the United States and all of our countries that believe in freedom and stability and security."
"So, again, I think it's important not to confuse the issues here about what we're talking about when we're talking about complying with international sanctions. Georgia is complying with international sanctions. Many of the sanctions may not affect Georgia directly. So I think it's important to keep this in perspective and understand that Georgia, just like most countries, will be complying with international sanctions to the extent they can. There are consequences for any country that doesn't comply with an international sanctions regime. We all know that. So, again, I think that the key thing here is that we all are sending a unified message of support to Ukraine, and one of the ways to do that is by complying with the international sanctions regimes," she underscored.
Ambassador Degnan stated that "in this situation, now, what is really important is that we all show a unified front to this Russian aggression that is killing thousands of Ukrainian civilians and devastating Ukrainian towns."
"In 2008, it's important to remember there were a billion dollars in support allocated for Georgia, and there has been considerable investment by my country and other countries in helping Georgia strengthen its deterrence capabilities. The Georgia Defense Forces are quite a bit stronger than in 2008 as a result of the strong security cooperation and partnership that Georgia has with the United States and other friends of Georgia," she asserted.
— U.S. Embassy Tbilisi (@usingeo) March 17, 2022