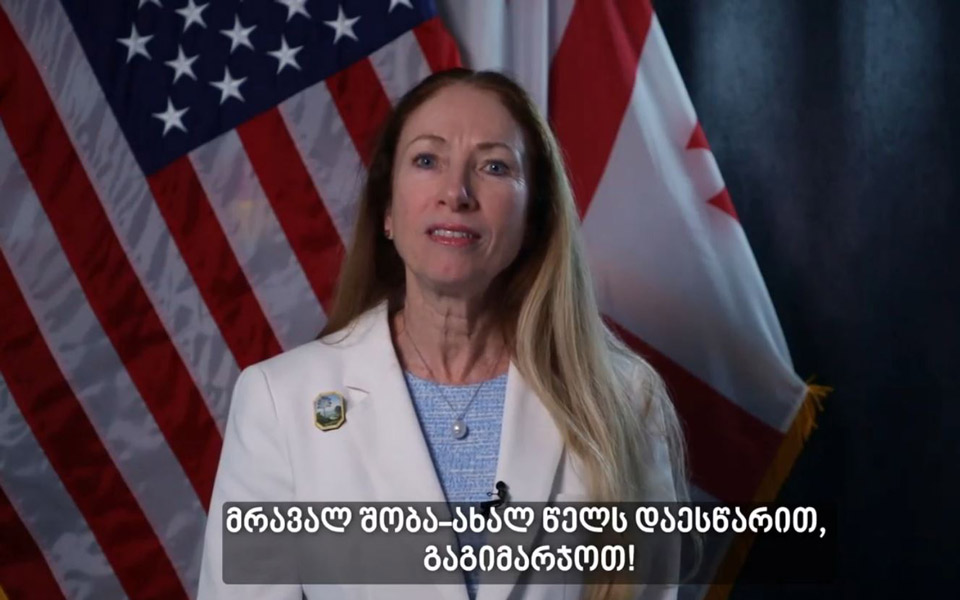 US Ambassador wishes Georgian citizens a Happy New Year
US Ambassador to Georgia Kelly Degnan wished Georgian citizens a Happy New Year. The US Embassy released the ambassador's video address.
"Gamarjoba! We at the American Embassy would like to share with you some moving stories which bring to life the US-Georgia partnership. These powerful stories show how working together, Georgians and Americans have touched countless lives and communities throughout Georgia and why we are so excited to continue our long partnership well into the future.
Our shared values keep us close: the love of freedom, independence and sovereignty, respect for human rights and rule of law, and for religious and cultural traditions, and our enthusiasm for innovations, entrepreneurs and economic progress. These are the foundation for friendship and the basis for optimism that the people of Georgia can and will succeed in building a stable and prosperous Euro-Atlantic future for this country. Guiding this future Georgians started building well over a century ago and it is now within a reach.
These short stories are just a small sample of what Georgians and Americans achieved together. We thought sharing these would be a feeding way to close the year.
We are deeply grateful to our Georgian friends for our partnership and guidance as we support your progress on the path to Europe.
I wish every Georgian citizen a blessed holiday season and a healthy, peaceful, prosperous New Year! God Bless Georgia, and God Bless America!
Mraval Shoba-Axal wels daestsarit, Gagimarjot," she said.